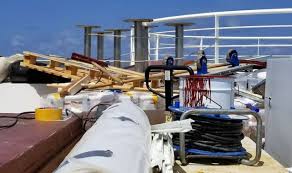 Q – We are extremely fond of this site, or at least we were, until we discovered that you are ignoring one of the biggest news stories of the year, the disaster of a cruise on the Norwegian Line that saw a two-week cruise ruined by on-going construction. It seems that you only cover the good news and just don't print anything that would reflect negatively on the industry. If you are going to be "truthful" you have to cover the truth that might not look good for those who sell and manage these cruises from hell. My husband and I are really interested in why you ignore these really upsetting stories about these ships and the awful experiences so many of their passengers seem to have. It is all over the news – but it is not on "cruisetruth".
A –  Some of the cruise executives who read our site would be surprised to hear that we don't print negative reviews or commentary. But understand, we are not a news site. We have not previously addressed the NCL Sun situation because this is a Q&A section and you are the first to ask us about it. We are a site totally devoted to providing objective information to the world's top-ten rated cruise lines. Shocking as it may be, these behemoths sailing with a few thousand guests who expect a luxury experience for under $200 a day, are not even close to being ranked among the top ten – or top fifteen. That would include NCL, Carnival, MSC, and Royal Caribbean. If you want coverage of the issues with those lines you may want to visit cruiselawnews.com, a compendium of problems at sea operated by an attorney who often represents clients in lawsuits against the offending lines. Or, you may want to read the "boards" and the self-appointed "critics" who populate them. 

This is not that. We had no clients on the NCL cruise. We do not sell NCL. It is a mass market cruise line and, like all of its multi-thousand passenger bloated sisters, guests are booking at the lowest possible pricing and then being asked to pay for almost everything aboard. The economic model for these low-cost mega-ships is all about getting the unsuspecting to pay significantly more once they are aboard the ship than they paid for the cruise itself.
That said – it seems clear that communication with the agents who booked their clients on this March 16th cruise was either non-existent or totally dishonest. Who was advised that large construction crews would be working from the day the ship sailed out of Miami. Why did no one at NCL imagine that passengers traveling with their children might be furious about construction debris and dust swirling about them for two weeks? 
It is easy to say "you get what you pay for." And some travel industry folks will smirk and quietly say that privately. But that is not at all the case.Once they know what they are getting for their money, NCL guests have been generally happy with their cruise experience. There is no way they could have anticipated the kind of at-sea debacle they experienced. They received a full credit for a future cruise on NCL, meaning NCL did not return any of the revenue they made on this sailing. What should have happened was that top executives should have flown to meet the ship when it arrived in Los Angeles. They should have had full refund checks or cash in their possession to hand out on the pier to guests leaving the ship. They should have also included a gift certificate for a free cruise of the guest's choosing. That didn't happen. Now it will be in the courts for years.
It is important to note that NCL also owns both Oceania and Regent Seven Seas Cruises. The publicly-traded company controls 8% of the total cruise market berths.  
It is a fact that some of the same folks who once traveled via Greyhound bus are now taking cruises. There are lines that cater to budget travelers. Cuts have to be made in many areas to turn a profit on these ships. It should not surprise anyone that this did not occur on one of the "real" five-star lines such as the ones profiled on this site. There are thousands of web sites that deal with mass market products and treat them as though they are luxury brands. We started cruisetruth to set the record straight. The very best cruise lines generally have the smallest advertising budgets. The public has been grossly misinformed and this "luxury cruise" "construction at sea" incident is just the latest example.