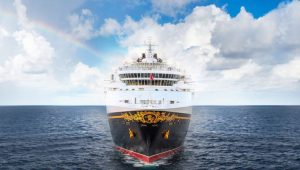 Q – I am a financial analyst and I just saw a column indicating that Disney Cruise Line will be adding three-new 2,500 ships tot heir fleet. This could give the company more than a million guests annually according to the report. The ships are all going to be LNG types and I am wondering just what that means and is it a good thing. I have only taken one cruise with my partner but we are already addicted and becoming more and more interested in the industry. Love your site and the attitude that comes with it. Wish you would talk more about financials and how these various cruise lines operate a profit – and which ones don;t. 
A – LNG-fueled ships are vessels powered by a new, as yet untested, in our opinion, propulsion system using Liqued Natural Gas. The first major ships using this brand-new technology will be the AIDAova and the Costa Smeralda.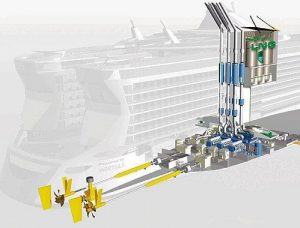 Cruise ships once used heavy oil as their major source of fuel. In the early sixties, ships were built that could use either the heavy oil, which was becoming very expensive, or diesel oil. LNG technology was designed to save money on fuel but also to put new ships in the position of being able to pass increasingly rigid environmental standards. Disney is joined by Carnival, MSC, and Royal Caribbean, among others, with announcements of new Liquid Gas-powered ship construction.
There are some skeptics who are concerned about the security implications of ships resting atop huge tanks of liquid gas. What would happen, for instance, if a rocket were to hit one of those tanks? The first ship to call on ports using the new technology will be the AIDAnova sailing the Canary Islands this December. It looks as though the industry, led by the Myer-Werf yard in Germany, has hedged its bets on this new technology. Many cruise executives will be watching the new ship-building announcements closely to see, if like Disney, the new technology will be fully embraced.
As to your suggestion that we talk more about financials – not sure we're qualified to do that. We try to include financial information that is important for the consumer to understand but we do not employ people with the financial industry background necessary to provide detailed analysis of the subject. You might find a publication called "Cruise Industry News" of benefit in that regard.