The Lux Cruise Dossier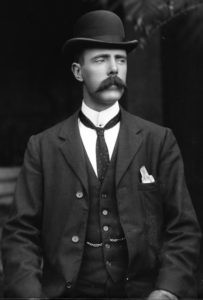 By A.V. Churchill
As the Chief Inspector for Cruise Truth Ratings Evaluation Team, it has fallen to me to communicate the comings and goings of the world's top-rated cruise lines. Whilst this information would seem to be available on any number of web sites, I shall endeavor to bring you information from my many inside sources at the lines and within the industry. I do warn you that I am financially comfortable and rather well traveled. I am, therefore, in a position to tell you the truth without fear of the consequences.
I should also tell you that I am a bit of a snob. I do, indeed, wear white gloves when personally inspecting my ships and I absolutely don't believe a word the PR people say. In my youth I worked for a PR firm in London that specialized in packaged food products so I know a thing or two about the hyperbolic arts.
You will be taken inside my large, black notebooks. And yes, I take hand-written notes. The thought of using my thumbs to say what I have to say in the pages of my cruise dossier is too primitive to imagine. So nothing you read will have been recorded on a misnamed "smartphone." I sincerely hope that my words will, somehow, be helpful as you plan your next journey on the seven seas.
The cruise industry is currently more close-mouthed than I have ever seen it. Back in the old days, when my offices were on High Holborn, one knew what P&O and Cunard were up to and we would all meet at the Temple Bar to catch up from time to time. But it's quite different now.
Regent Seven Seas launched its new ship, the Explorer of the Seas, in tiny bits and pieces, the PR folks throwing crumbs to the masses. Now we hear that another new ship, the Splendour is coming next fall. These are the most expensive maritime vessels ever built. 
The thing about Regent is that they include proper pastries with the tea service, meaning they toss in complimentary Business Class Air and the majority of shore excursions. This is, of course, a rather good value until you actually examine it under the microscope I keep near my standing desk.
Having worked aboard some of the world's great ships, British-flagged one and all as I do have my standards, I can tell you that free anything is simply marketing Yorkshire pudding. It looks better than it tastes,
As Turen, one of the few things he ever got right, advises, one needs to take cruise pricing apart as it was likely designed by a 26-year-old graduate of the University of Phoenix online.
You always want to compare the costs, as we say, of trifle to trifle, say the least expensive balcony stateroom without the air included. You then take the number of nights you will spend on the cruise and divide that number into the cruise-0nly price.
That gets you, as we used to call it at the Savoy, your true per-diem cost. Line up per diems and you will see major cost differences between the five-star lines. 
You might well discover that a line that includes a bit of eye-candy in its brochure pricing is actually charging you a fair sum for that "Free" Air.
Allow me, please, a brief diversion. Why do you Americans like the term "Free" so much. Complimentary is so much more the elegant term.
So here, then the point – construct a simple chart of stateroom price comparisons after removing the air cost. Now, I am going to save you some time by explaining what you will discover when comparing prices after subtracting the air credit for cruise-only Regent pricing. It will turn out that the real cost will be somewhere between $2500-$3000 Per Guest for the round-trip Business Class Air. Certainly not "Complimentary" but still a very tidy little bit of value – especially if one is assigned flights via British Airways.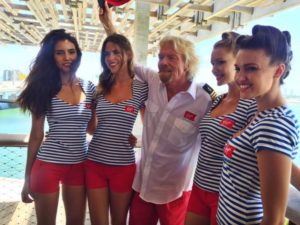 There is now some real money behind brands like Crystal and Virgin. I am thinking of "buy out any annoying competitors" kind of money. But at this juncture, there seems to be these new, growing brands in the luxury segment with no signs of consolidation. I fear I will be keeping the late night candles burning to keep up with all of this. And complicating it all, is the current belief that PR is best done in small dribs and drabs. That's not how we launched the Titanic.
All of which leads me to the delicate issue concerning the total lack of interest most Americans have of visiting other portions of our planet. I just don't understand why so few Americans have ever held a passport, a document I absolutely cherish.  I mean here is Sir Richard working his fingers to the bone trying to launch a new cruise line and the percentage of Americans who will have the potential to sail her is quite limited based on the number of  Americans who have the proper documentation to get themselves out-of-country. Well, no matter, you can depend on Mr. Trump to tell you all you need to know, I suppose, about the rest of the world.
It's an old witticism, but one worth repeating here:
What do you call someone who speaks three languages? Multilingual.
What do you call someone who speaks two languages? Bilingual.
What do you call someone who speaks one language? An American.
Perhaps I should start by trying to destroy an urban myth that I myself have helped perpetuate. Much of the world, it turns out, believes a well-circulated rumor that only 10% of American adults own a passport. I have previously written that, actually, 29% of all American adults have passports. 
But mea culpa, the real number, according to the most recent data issued by the State Department in January is actually 35%. The Bureau of Consular Affairs reports that 110 million of us are carrying passports, out of a population of 313 million potential travelers. 
I am rather intrigued by the fact that two-thirds of us are not planning to travel internationally. What does this say about us? Is it laziness, a lack of curiosity or just deep-seated ignorance that leads us to believe that nothing on this earth is as sophisticated, as smart, as clean, as well thought out, as rich, as successful, as fascinating to our children, as moral or as important to the rest of the world as our United States? 
One of the interesting aspects of the "internationally uninterested" is that when you interview Americans who don't have a passport, 90% say they have no intention of ever getting one. 
I suspect that may be changing over time, but it will be changing for the wrong reasons; the vast majority of new passport applications will come from those who have suddenly realized that they will need one to enter destinations in the Caribbean, Mexico, and Canada. Cruise passengers now need passports.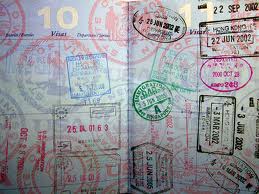 This is why we have seen the rise in the number of U.S. passport holders. But I'm not at all sure that this is a reason for optimism. The vast majority of newly issued passports are either work-related or are the result of new rules affecting documentation required by our closest neighbors. 
I have seen nothing that makes me feel there has been a seismic change in the number of Americans who have an interest in visiting any continent aside from their own. 
Three years ago, in an oft-quoted piece in London's Guardian newspaper, John Patterson wrote that most Americans don't go abroad "because they're ridiculous, paranoid, pathetically insular and grotesquely self-pitying." 
That seems to me to be a tad strong. It also depends on what particular portion of the U.S. one is referencing. 
It is essentially wrong because "most Americans" simply can't afford to travel internationally for the purpose of pleasure or their own curiosity. Fly to Paris, add in seven nights at a moderately priced Parisian hotel, then add transfers. You are somewhere between $5,000 and $6,000 for two, and you have not yet added in any formalized sightseeing, entertainment or the single most expensive portion, statistically, of an international vacation: food. Take all of that together and you have a not-very-deluxe, one-week jaunt to Europe that easily approaches $8,000 per couple. 
The fact is that those of us who ply the international travel trades in the U.S. are dealing with some portion of the one-third of Americans who have passports and an interest in what lies beyond our continental borders plus the means to cover the cost. 
One could seriously argue that ours is a unique situation. True, just over 60% of all adult Canadians have passports, but they belong to a former empire that they are fond of visiting from time to time. They also like to come to the U.S. for our pancakes. 
In my country, Britain, 75% of citizens carry passports. But newspaper readership in the U.K. is more than double that in the U.S. The No. 1 news channel in Britain is not the Comedy Channel, as it is here. Perhaps because of their history and involvements in empire-building, we Europeans at least seem to have a travel-based inquisitiveness that has mostly escaped us on this side of the pond. 
Still, it just doesn't seem fair to beat ourselves up by comparing the number of Americans who travel with the number of Europeans who travel. An international traveler on the other side of the Atlantic just takes the tube out to Gatwick, hops on Ryanair or some other flying-bus company, and $30 or $40 later, voila! He or she is an international traveler. Italians and Spaniards will fly internationally to watch their teams play soccer. It costs more to stay four nights in central Rome than it does to go on a four-night holiday package to, say, Marrakech or the Costa Brava. 
Then there is the very size of our home. Our land mass is just short of 3 million square miles. We count more "us" than any place on earth except Russia and China. Our vastness provides virtually every type of climate condition, from the sultry subtopics of the south to Alaska's subarctic chill. 
Americans want to see their own country, and they pretty much understand that while the melting pot concept worked during the past waves of immigration, the country is now more of a salad bowl: many cultures on the same plate, each maintaining its own distinctive characteristics. 
So we can really make the case, I think, that while passport applications are up, they are up because our population has grown, there are more Americans working abroad and passports are now required for travel in North America. 
There is no evidence to suggest that the arrogance associated with those who wonder, "Why leave the U.S. when we've got everything here?" has in any way disappeared. We still stubbornly refuse to learn a second or third language. We still accept the fact that one can graduate high school in this country without ever engaging in the formal study of world geography. We still cling to the outmoded notion that we are the best at nearly everything. 
This is, I think, at the heart of why more of our clients don't travel abroad. There is no overriding desire to visit the more affluent, better educated, healthier, better-read portions of the world that have been off our radar (it seems to me) forever. 
Can we even conceive of the notion of encouraging travel to places that do some things better than we do? Imagine how liberating and fulfilling such travel could be. 
But for that to happen, you need a population that is curious about the developed world. For that to happen, you need a society that respects highly educated people instead of mocking them. 
A CHECKLIST OF OCEAN AND RIVER CRUISING TRENDS AND INNOVATIONS
            I think that mid-summer, pre-election, maybe a good time to take a look at some of the major trends we are seeing in both the cruise and riverboat segments. Since so much of the media concentrate on cruising's "Big Three", I am going to concentrate on some of the trends we are seeing at the upper ends of these markets:
THE CRUISE INDUSTRY IS GROWING AT ABOUT 4% A YEAR
This is happening despite some nasty weather, Zika mania, and perceptions of terrorist threats. C.L.I.A. is predicting that more than 24.2 million people will enjoy an ocean cruise this year. The biggest gains have been in Asia, up 24%, and in cruises that originate in Australia, up 14%.
CHINA IS CALLING AND THE BIG GUYS ARE ANSWERING
As recently as 2010, Cruising in China was still on the drawing boards. Cruises in China tend to be sold as complete packages and they are sold by Chinese middlemen who operate price-driven dealerships where they normally charter an entire ship or large portions of an available sailing. Carnival will have six of its ships calling in China this year and Princess has a new subsidiary totally dedicated to the Chinese market. Royal Caribbean has taken the single largest ship-risk, placing the new 4,905 Guest Quantum of the Seas in the market and Norwegian Cruise Line is building a ship specifically designed for the Chinese market.
The question that still needs discussion is just how appropriate are these "Chinese designed" cruises for the American traveler? To what extent will Mr. and Mrs. Mainstreet feel truly comfortable on a cruise designed for Chinese tourists?
LAST YEAR'S FASTEST GROWING INDUSTRY SEGMENT WAS RIVER CRUISING. BUT GOING FORWARD IN THE NEXT FIVE-YEAR CYCLE IT WILL LIKELY BE ADVENTURE CRUISING:
Luxury Adventure Cruising is poised, I believe, to become this year's industry growth champion. This all started with a 2013 report from the World Tourism Organization that placed the value of the adventure market at over $265 billion. If this is an accurate figure, it means that expedition cruising has enjoyed a 24-month growth rate of something like 195%, a staggering figure. Get ready for the advent of the adventure yacht boom. Here are some of the ley players in this growth:
Lindblad Expeditions-National Geographic went public last year and promptly ordered two new 100-Guest ships for US Coastal voyages. The company also bought Via Australis, and will place several of their ships in the Galapagos after major refurbishments. Lindblad invented non-scientific expeditions to Antarctica fifty years ago. The company operates six vessels carrying 28-148 guests. Instead of casinos and lounge acts your cruise is likely to include top tier naturalists, undersea experts, historians, and expedition leaders. You will also find a National Geographic photo instructor or photographer aboard ship to assure Pinterest Perfect Photos. Lindblad has started including organic food sourcing whenever possible. But, alas, there is no bingo.
Crystal Cruises will be taking delivery of a polar-class 200 passenger mega-yacht called the Crystal Endeavor in August 2018. She will be 600 feet long and at 25,000 GRT she will be the world's "largest and most spacious" mega yacht. She can handle travel within polar regions and in her initial season, she will follow the migrating whales from the Arctic to Antarctica. In order to offer her guests the ability to truly explore some of the world's most remote destinations, the Endeavor will carry a number of "amenities" not previously seen on a luxury adventure vessel. These will include two helicopters to take guests for "flyovers', two seven-person submarines for deep sea dives viewing underwater glaciers and coral reefs, an ATV, a fleet of jet skis, and even a recompression chamber for serious Scuba divers.
Silversea has been credited with leading the growth trajectory of luxury adventure cruising. It began with the Silver Explorer in 2007 and the line will now take one of its five-star luxury ships, the 296-GuestSilver Cloud, and convert it into a polar-class vessel that will enable guests to explore some of the more extreme destinations on earth in the comfort of a one-to-one staff ratio with five restaurants. The line will take delivery of the new 596 guest Silver Muse in 2017. It is expected that this ship will have the highest staff to guest ratios in the industry. Silversea does not dabble in five-star Adventure Cruising. In many ways, the line is redefining the manner in which luxury travelers can truly explore the remote corners of the globe with the assurance that a well-stocked wine cellar will be awaiting them as they return to their ship.
Seabourn is approaching five-star adventure cruising with a somewhat different emphasis. The line is has designed some special itineraries that highlight specific portions of the world high on every adventure traveler's list. These include Patagonia, Antarctica, and the Amazon. Seabourn is getting two new ships, the Encore and the Ovation. Encore will be delivered later this year with the Ovation coming on-board in 2018. With these new-builds, Seabourn has decided to up the passenger count of 450 on its current Odyssey class ships to 604.
Scenic, the upstart Australian luxury tour and cruise company is launching, what it calls, "The World's First Discovery Yacht" in August of 2018. It is going to be sailing to the Mediterranean, Antarctica, and the Arctic, which you would expect of a self-described "Six-Star" vessel whose smallest suites have a butler and a veranda and measure 345 square feet. For something a tad more comfortable, there is a two-bedroom Penthouse Suite at 1,775 square feet. While it may be sounding as though the water routes through the ice in Antarctica may be rather crowded in the next several years, Scenic is also placing its "most technologically advanced yacht in the world" closer to home with a series of cruises in the Americas that include two 14-Day Circumnavigations of Cuba round-trip from Miami.
MEKONG RIVER CRUISING IS A SEXY ALTERNATIVE TO TRADITIONAL RIVER CRUISING
It is said that Amazon has the world's greatest bio-diversity. But the Mekong River is second with over 1,300 known species of fish along its 3,050 mile long path across Southeast Asia. The so-called "River of the Nine Dragons" will travel the route of the kingdom of Siam to the Khymer. The Mekong is the next hot destination and travelers will discover that the ships deployed on this route are built locally and represent the highest levels of shipbuilding craft with dark wood floor and original furnishings. AMA Waterways, Abercrombie & Kent, and Aqua Expeditions are the leaders in this market.
FOLLOW THE FRENCH FLEET ON A SOFT ADVENTURE WITH FRESH CROISSANTS
It has been said that if you want to vacation in style with good food, just figure out where the French are going on vacation these days. But Americans have another option. They can sail with the French to all seven continents on the laid back, luxury French line Ponant. The original Le Ponant stills sails as  a 64-guest sailing ship. But four sisters, Le Boreal, Le Soleal, L'Austral, and Le Lyrial now form the bulk of the fleet, 224-264 guest beauties each reflecting French style and curving lines but also featuring ice-hardened hulls for polar exploration. Each of the sisters features several lounges, a theater, library and a pool. Ponant's ships are heavily utilized by Tauck Tours in its inventory of escorted sailing itineraries.
RIVER BOATS RE-POSITION BEDS, AND CONVERT WINDOWS TO BALCONIES
There was a time, not so very long ago, when a river boat sailing any of the continent's major rivers was filled with 120 square foot cabins. That is close to the mandated size of a prison cell in many states. But things are changing on the rivers. River boats need to be less than 443 feet long to fit through the various locks. There are strict limitations on height given low-handing bridges. So river boats have to get creative within narrowly defined space parameters for cabin design. Uniworld has a simple little switch that raises window glass to form an open-air solarium. Scenic Cruises has a "Sun Lounge", a balcony surrounded by glass that can be easily opened to the river. AMA Waterways has one-upped its competitors by designing twin balcony suites consisting of both a French balcony as well as a larger true balcony. But perhaps the smartest and simplest innovation is that of Avalon's Panoramic Suites which constitute a majority of its cabin categories. Avalon has managed to just turn the beds around so they face the window. The glass wall in front of the bed opens so guests get a sense of floating on the river from the comfort of their bed.
SPA CABINS AND ENVIRONMENTAL STATEROOMS HIT THE LUXURY CRUISE MARKET
Seabourn added new Penthouse Spa Suites on the Quest and they will be added to the line's other ships this year. These suites are just one deck above the ship's larger than usual spa facilities. Each of the suites is one-bedroom with a sitting area and they are decorated in a similar style and colors to match the spa below. They will feature specially designed oversize showers, spa bath amenities, and a soundtrack of soothing spa-influenced music. Crystal Cruises is taking a different approach to health and wellness. The Crystal Serenity came out of dry dock with 70 remodeled cabins that are cleaned using carefully selected hypoallergenic products. Each cabin is also equipped with special air filters to improve the quality of air. The hotel industry has flirted with this notion of "cleaned more proactively than our regular rooms" concept and decided to abandon it. It remains to be seen if Crystal will find an audience for environmentally treated cabins.
THE ULTIMATE ADVENTURE OR SHIP OF FOOLS?
"A Ship in Harbor is Safe,but that is Not What Ships are Built For" – John Shedd
            It must have been an interesting marine operations meeting. Someone in the room at Crystal Cruises headquarters on Wilshire Boulevard in Los Angeles suggested that the company place the 1,070 guest Crystal Serenity on a 32-Day itinerary that would take it straight through the legendary Northwest Passage route beginning in Seward Alaska and ending in New York City.
              The decision was made to go ahead with this plan and the trip sold out in 21 days, one of the fastest-booking trips in recent cruise liner history. It is wise to think about history when considering the Northwest Passage. More than a few explorers died trying to complete the voyage.
              This voyage into the record books will begin less than two months from today, on August 16th. And I have to wonder how many of the 1,000 booked passengers and the 645 crew members on this expedition, where no luxury liner has ever gone before, are aware of the storm of controversy that is swirling around this sailing and Crystal's planned repeat voyage on August 15th next year.
              Before we talk about the voyage allow me to state my bias. I would give up my GDS to go on this trip (the fact that I've never had a GDS is of no consequence). It is a true "expedition" in an age when the word has been watered down to include a visit to a Chick-fil-A in a dicey neighborhood. I admire the people who have booked it and I wish I were among them. But I do wonder if they have been adequately informed about the risk many experts see in this itinerary.
              Outside Magazine, began their account of the sailing with "if successful, the trip, which ends in New York City, will mark the first crossing of the Passage by a luxury cruise ship." If successful?
              I don't believe I've ever seen a luxury cruise line itinerary described as "well it will be adventurous, it will be memorable, it will be fun for all involved if it actually works and avoids disaster." You see there seems to be some doubt. And some of it is coming from some rather impressive sources.
              Let's try to put the voyage in some perspective. The route will include 23 different waterways. It is doubtful that the Captain of the Serenity has sailed all of them. There is a good deal of land and ice because the ship will be passing through the unforgiving Canadian Arctic.
              This is a water route that has been attempted since the 15th century because it was seen as a profitable potential trade route by nations in Asia and Europe. None of the early attempts were successful until 1906 when Roald Amundsen did the Passage in a fishing boat with a crew of six. He managed to hug the coast and avoided icebergs. But it was slow going. It took him three years. The Serenity is too big to hug the coast. She will be on schedule.
              But she won't be the first. Global warming (save your letters deniers – I don't read them) has created some substantial increases in Arctic temperatures. This has tended to break up some of the ice with a good deal of softening. In 2012, The World, the privately owned floating luxury condo building, made the passage successfully. Private yachts have made the journey every summer since then. Last summer twenty smaller vessels made the trip. So it would be unfair to characterize Crystal's voyage as entering the unchartered, untested territory.
              The issue and the source of the controversy is the very size of this ship. If something would go wrong, a massive rescue operation would be required and local facilities would be totally incapable of handling an emergency.
              That is why CBC News ran a headline on April 3rd "Arctic rescue fears loom as massive cruise ship prepares to sail Northwest Passage".
              This is what has the Canadians concerned. Yes, it is true that the ice pack has been shrinking, some would say at a fairly alarming rate, and warming temperature trends continue. This has opened up the "Passage" for commercial shipping and some small-ship tourist expeditions. But make no mistake, the Northwest Passage remains one of the most remote places on earth and one of the most poorly mapped regions of the world. That is part of its charm and that is part of its risk as a luxury cruise destination. The bottom line is that during some major portions of its itinerary the Serenity will be out of range of Canada's search and rescue helicopter squadrons.
              This cruise has concerned Michael Byers who holds the Canadian research chair in global politics and international law at the University of British Columbia. Byers has taken to Canada's talk radio circuit to warn that the Canadian Coast Guard is not equipped to handle a disaster in the Passage. In an interview with the Canadian Broadcasting Corporation, he points out that "if the ship sinks, then that would actually break the Canadian search-and-rescue system. They would not be able to get to those people and retrieve them in time."
              There has been a previous small ship disaster in the Passage. In 2010, Clipper Cruise Lines Adventurer struck a rock shelf that had been uncharted near Kugluktuk, Nunavut. The nearest coast guard icebreaker took two days to arrive.
              Crystal has been extremely pro-active in preparing for this voyage. The ship's Captain and bridge team have attended ice navigation training and two Canadian certified ice pilots will be aboard the Serenity. The guests on this voyage will also have a 'bodyguard" to tag along on the voyage just ahead of the ship. In order to assure maximum protection for its guests, Crystal has contracted for the lease of the RRS Ernest Shackleton, a logistics and research ship that is operated by the British Antarctic Society. The ship carries helicopters and will provide some ice-breaking muscle if needed. It also carries sophisticated thermal mapping equipment used to detect trouble up ahead.
              But from a purely PR point of view, I would have asked my bodyguard to change her name. Shackleton, the famed Antarctic Explorer, managed to trap his ship, the Endurance, in 1917 in pack ice. The ship was crushed before help arrived. The crew camped on the sea ice and then launched small lifeboats when it melted. After a stormy ocean voyage of 720 nautical miles, they reached the inhabited island known as "Georgia" but, alas, there was no barbecue to be had. It wasn't "That Georgia".                                                                                                                                                                                                                
              The US Coast Guard seems to feel that its presence is not required unless pre-trip forecasts indicate a particularly icy sailing. This is just a tad delicate as Canada lays claim to the portion of the Passage that winds its way through Canada's Arctic Archipelago while the United States claims it is an international strait. This cruise will occur before our National election so war with Canada is highly unlikely. As to next year……………..?
              Of course there is the inevitable historical comparison. It appears in several places in the growing literature surrounding this voyage but I prefer using it in the way it was used by the Vice-Commander of the U.S. Coast Guard. "As a coast guardsman", Charles Michel told the CBC, "I don't want a repeat of the Titanic."
                            In fact, our Coast Guard seems to be uniquely positive about the level of Crystal's preparations for this voyage, many taken at great expense. They seem less concerned about any risk posed to Crystal guests than they do to future mega-ships that might attempt the Passage with less preparation and professionalism. As Jeff Hutchison, a commissioner in the Canadian Coast Guard has observed, "what I'm more concerned about is ship owners who might be looking at this voyage and saying, "Well that looks profitable, why don't we think about that. And they may not bring the same level of planning and forethought."
              The legal scholar, Professor Byers, was invited to lecture aboard the Serenity and he claims he turned it down. Speaking to the environmental magazine, "Living on Earth", he pointed out that the ship has a large carbon footprint and his view that the Arctic is "on the edge of a precipice, the sea is melting and the ecosystem is being overturned." The professor sees the expedition cruise as a form of "extinction tourism."
              A number of environmental groups are concerned with the impact of "the world's largest luxury cruise ship" on the small towns that dot its precarious, ice-strewn route. In Nome, it is said you can throw a snowball from one end of town to the other. How will residents handle 1,000 disembarking guests intent on an authentic encounter ashore, the kind some of them paid as much as $156,000 to experience?
              Among the environmental concerns is the presence of large numbers of Beluga, Bowhead, and Narwhal whales in the Arctic. These animals are extremely sensitive to noise. What will the effect of a giant ship passing through be as they are mating?
              Then, of course, there is another "unmentionable". What would happen to this environment if there were to be an oil spill in this highly isolated region? The Serenity will be carrying hundreds of gallons of fuel on-board.
              It is the fear of an unseen "growler" that keeps so? environmentalists up at night. The number of icebergs is actually increasing in the Arctic because meltwater moistens the motion of the glaciers into the sea and small chunks of icebergs called "growlers" populate the waters and are very difficult to see. Because they are so dense, these chunks can puncture the hull of a cruise ship.
              Crystal has arranged to have polar navigation specialists and ice-spotting radar and lights installed on the Serenity.
              In an interview with DW Magazine, Malte Humpert the Executive-Director of the US-based Arctic Institute Center for Circumpolar Security Studies points out that the Arctic "Is not the Mediterranean". He points out that is something goes wrong it won't go wrong on a sunny day. "It's going to go wrong in really harsh conditions. "Suddenly you have a ship with 1500 people, most of them probably elderly, in frigid waters. The largest communities ashore are smaller than the population of the ship. And even with a helicopter or two, how long is it going to take to get those people off the ship?"
              On August 18th the Serenity will leave Dutch Harbor to enter the Bering Sea as she begins her legendary Passage where no ship of her size has ever ventured. I'll be thinking about her that day and in the days that follow and I hope you will as well.  May the Serenity live up to her name.
(Senior Contributing Editor Richard Bruce Turen is the Owner of Churchill & Turen Ltd. The firm has won more "World's Best" travel accolades from the consumer press than any other travel firm in the nation. Richard is the author of three books on travel and food and is the Managing Editor of a media group that includes five consumer-oriented web sites)
As I sip my proper Oolang, it occurs to me that my clientele is a bit confused about pricing. After all, these big floating shopping centers they call cruise ships have big advertising budgets and it is easy to convince the public that they have the lowest prices. In fact, they usually do but they rarely represent the best value. To wit:
CRUISE PRICING UNMASKED: A SIDE-BY-SIDE COST COMPARISON
When it comes to cruise pricing, what you see in an ad isn't always what you get.  How much more expensive is a cruise on one of the world's top-rated ships, compared to the same itinerary on a mass market ship? The comparison below may shock you:
We are going to compare the 5-Star 700 Guest All-Inclusive Regent Seven Seas Mariner sailing Venice to Athens with the upper mass market Holland America Noordam sailing on a similar 7-Night itinerary from Rome to Rome (Port of Civitavecchia).
We will compare an H Balcony Suite on the Mariner with a Superior Veranda Suite on the Noordam. The Noordam Suite will be larger by 88 square feet. And, given the quality differences in terms of staff, food, crew ratio, number of guests etc., you would expect that the cabin price of the Noordam per person would be less. And you would be correct. Less by a lot – $1999 versus a whopping $5,550 per person for the Mariner.
But now watch what happens and you will truly understand cruise pricing from the inside. Here is what Holland America will add to the bill for items that are included by Regent:
Air and Taxes plus surcharges =                                         $2,010
RT transfers between airport and ship =                           $178
Shore excursions estimated =                                             $695
Tips and drink surcharges =                                                $77
Beer, liquor, wine with service fees estimated =        $201                 
Bottled water and soft drinks =                                          $81
Better food at specialty restaurants (3 nights) =       $60              
TRUE PER PERSON COST OF THE ABOVE = $5,253 Per Person. EVERY SINGLE ONE OF THE CHARGES ABOVE IS ALREADY INCLUDED IN THE REGENT SEVEN SEAS CRUISE FARE.
SO, THE ACTUAL COST DIFFERENCE BETWEEN SAILING ONE OF THE WORLD'S TOP-RATED SHIPS AND A SO-CALLED 'PREMIUM' MASS MARKET SHIP IS THE GRAND TOTAL OF $297 PER PERSON FOR A WEEK IN EUROPE.
Another way to look at the figures, Holland America's Noordam works out to $750 Per Day compared to Regent's $793 Per Day.
Let's compare two more of the so-called "premium" lines with this Regent Mariner sailing.
The Celebrity Equinox sailing from Barcelona to Rome (7 nights) comes in at a total cost of $6,292 or $899 per day when using a sky suite for comparison. That is more than $100 per day, per person, more then Regent.
The Ocean Princess sailing from Rome to Athens (7 nights) comes in at a total cost of $5,142 or $735 per day when using a Balcony cabin of 216 sq. ft. for comparison.
Conclusion: These figures were initially compiled by Regent Seven Seas. In one or two cases they could have done a comparison using a lower category on a competitor's ship. Several of the mainstream cruise lines offer airfare at a lower cost then that quoted above for Holland America.  But the research and the facts still lead to one conclusion: The Five-Star Ultra-deluxe Regent Seven Seas ships are the better value given their inclusions versus the endless on-board charges assessed by the mass market and premium lines.
This was not always the case. This pricing analysis takes into account the unprecedented offers including free airfare now being offered in the luxury ship category. We expect these cost comparisons to carry well into next year.
Our research shows that a similar case could be made for the better value of these Five-Star lines in head-on comparisons with larger, mass market ships: We could have compared pricing on a wide range of worldwide itineraries. The results are much the same no matter which cruise "trade" is being compared, although price comparison stats are much stronger for the mass market ships in the Caribbean.
Comparisons for the following Five-Star Luxury Cruise Brands yield similar results:
Crystal   – Seabourn   – Silverseas
Crystal is offering 2-1 fares, free air, and $2,000 worth of onboard credits that can be used for shore excursions, gratuities, or drinks. Seabourn and Silverseas are discounting up to 60% off and are offering free air on many itineraries. These are the top-rated cruise lines in the world with better food, better service, and a host of Four Seasons type amenities. And they are small islands of luxury instead of large convention hotels that serve institutional food and happen to float. But, sadly, no one takes the time to do the math. The side-by-side value of the five stars versus the "premiums" is one of cruising's best-kept secrets. Unfortunately, the smaller, upscale lines have much smaller advertising budgets to shout their message to those who might upgrade to their products were they aware of the financial facts.
The sophisticated cruiser knows the difference between "cheapest" and "best value". Carnival, Costa, and NCL are the "cheapest" cruise lines. But we believe it is generally true that the five-star ships
Provide the best overall value in the industry at current discounted rates.
But you know that as I write this down with my quill pen for someone else in the  office to place up on that web site contraption, there is a new, rather amazing offer that has just come across my desk for sailing in 2017 and 2018. Regent Seven Seas, is, I suspect, having some sort of mental breakdown in their marketing department as they have just announced that they will be included totally Free Business Class tickets with each and every sailing in Europe, Africa, Asia, and the South Pacific in 2017-18. I mean this is simply ludicrous and it is not a very nice way to treat one's competitors. There don;t appear to be any blackout days at all and the offer applies to all categories of stateroom. I felt a spring in my toes when I first read the press release. Ahh, I thought, the bookings game is really afoot. This has never been done before and not even dear old Admiral Nelson would have been proud of such a shot across the bow of the competition.
WHO IS A.V. CHURCHILL?
By Richard Bruce Turen
It occurs to me, dear friends, that Angela and I have not yet formally introduced you to our business partner, Churchill. Actually, his name is William Sheffield Churchill, but we have never heard anyone call him anything but Churchill. He is certainly not a "Bill."
We first met when he was my agent during the time I was living in Tuscany in the late '70s. His small travel agency was located on a narrow cobblestone street just off Via Guicciardini in Florence. He had moved to Italy from Devon, England, and we became friends. He was world-weary back then, having one of those "how can I possibly do it all" attitudes.
He would put down his telephone when I visited his office and yell out to anyone who would listen, "Travel agent! Just another way of saying shopkeeper for the world." He was in his early 30s, but he was always old.
Churchill knew the system. He cursed the airlines and charmed them whenever they were in his tiny, two-desk office. He told me he was moving to the States, he didn't care where. He felt that commissions would be higher in America, and he felt that the traditional, full-service travel agency was on solid ground. He thought the tour operators in England had too much power, and he despaired as he tried to "create order in a country whose citizens prefer chaos." "To an Italian, a schedule is merely a suggestion," he would insist.
Churchill and I started talking about opening a business together. His wife worked on reading all of the great classics. My wife would be an integral part of the travel agency I wished to launch when I went back to the States.
Twenty-nine years ago, Churchill and I arrived in Naperville, Ill., for no particular reason. A sea captain, one Joseph Naper, had managed to run his ship aground and discovered the place, so we thought that might be a good omen to launch a cruise business. It has become Chicago's largest bedroom suburb.
Churchill was opposed to our business model from the start. He felt that cruise- centric firms were great gambles. "One little Titanic, and what kind of business have you got?" he would ask repeatedly.
Churchill works in our Naperville office in a small back room around the corner from Kiersten and Sara's office. It is furnished in a kind of distressed Victorian style. His wife left him for a Virgin Atlantic pilot eight years ago. At age 72, he still comes to work each day in a tie. He sits at one of those high librarian desks so that he looks down, through his bifocal lenses, on anyone who might solicit his opinion about travel. He looks very much like the maitre d' in a posh British tearoom.
He has quite a following and is well known at British Airways, his airline of choice.
"I never want my clientele to be flying at 33,000 feet during turbulence without a proper explanation in the King's English," he is fond of saying. If Churchill books your trip you will almost certainly be routed through London.
He is also a fan of Abercrombie & Kent and the Orient Express brand. He seems unaware that they are now known as Belmond. He refuses to work by appointment and often has a small line of visitors waiting in the office to speak to him. He walks to Starbucks from time to time, always for tea, never for coffee, and when he comes back to the office it takes about 30 minutes before he stops complaining to our staff about the scones. He is the only person in our Naperville complex who wears a coat and tie to work each day. The only concession he makes to summer is to shed his vest.
Churchill has clients across the country. He has pushed us into serving various elements of an upscale clientele, whether they prefer cruises, escorted tours, or, as Churchill puts it, the only proper way to go anywhere, "bespoke arrangements." His clients, for the most part, know what "bespoke" means. They have bespoke tailors when business takes them to London. When a client once asked him if he would recommend a Carnival Cruise, he responded "Why yes, if you mean as a gift for one of your servants".
Churchill longs for the good old days when he could do it all on a slip of paper. Then came the GDSs, the airline-provided computer systems. Now, he is visibly upset whenever he must use the Internet. If his clients could see him cursing under his breath at "the madness of it all … who is to believe any of this drivel?" He only uses the internet when he has to, preferring telephone contact with both clients and his worldwide contacts. He busily takes notes on hand-stitched stationary using a quill pen. He refers to male clients as "Sir" as in "Sir Charles" and Sara says he calls his female clients "My Lady".
Lately, he has been putting pressure on me to "tell these travel agents that they need to get back to basics." He agrees with little that I write for Travel Weekly and feels that "like all things lacking a proper foundation, the internet will eventually fail". He occasionally sniffs snuff a distracting habit that had Sara feeling she was sharing offices with a cocaine-addicted consultant. But the that turned out not to be true.
I argue with Churchill from time to time, but always in a gentlemanly manner. The last serious disagreement we had was when he wrote a letter to the President of Crystal Cruises asking that all of his clients with "peerage" be offered some sort of special compensation. He often complains that he spends his days on the phone speaking to suppliers who are "teenagers posing as professionals" and he always mentions how well educated Cunard's Transatlantic reservations agents were in the 1950's.
When I am asked when I will give up Churchill and Turen, I always reply that I will sell the day that Churchill decides to step down. For now, he is working on a group tour called "In the Footsteps of Dickens" which he intends to escort in 2021. Last year, he got us a "tea cozy" for Christmas.
He ends almost every work day by walking into Sara and Betsy's offices and bidding them "a fond farewell". He then clicks his walking stick, heads to the door, muttering something about "what an absolutely ridiculous way to earn a living."