FLYING TO VENICE BACKWARDS IN AUGUST
August, the summer's last messenger of misery, is a hollow actor.  – Henry Rollins
By Senior Contributing Editor Richard Bruce Turen
I am off on our annual client trip, a cruise from Venice that has attracted forty-one clients from across the country, each with some very good reasons why they would prefer the heat and humidity of Italy and Greece in August to whatever was waiting for them at home.
We had booked ourselves on a British Airways 747 to London where we would be transferring to our flight to Venice to begin our cruise. I must confess to a certain pleasure in being able to return to fly a 747. It has been years. I resisted the temptation to look at the certificate near the front door that would reveal the aircraft's age. It is just not a good idea to ask a lady if you can see her birth certificate.
One of the reasons I had selected this flight was that I wanted to see how BA's seating might work out. I had never flown an aircraft with rear-facing seats.
Instead of sitting upstairs, a place I enjoy, I was seated in Business downstairs where BA's alternative seating had been installed. Had I read the frequent flyer blogs I would have learned that seat # 64 upstairs is preferred by all the insiders.
Have you ever read these blogs? There is something sad about the compulsive need to record your seat experiences each time you fly. It reminds me of the folks who feel the need to take a photo of every restaurant dish placed before them for Instagram and posterity. Let you tell you about my seat.
I have never placed airline seat designers in the same category as, say, Frank Gerry. The "labs" that design airline almost always get it wrong and they seem to have absolutely no concept of what comfort levels are required by folks who have paid $4,000 or so for the privilege of a superior seat and the kind of legroom that is likely to prevent deep-vein thrombosis.
As I entered the Business Class section I came face-to-face with "Club World" Class. Every window seat in my compartment faced backward. I soon discovered that I was seated opposite a London businessman who, I would guess from his attire, had come to the States to ride bulls and was now heading home with little time to peel the manure off his boots. I got to watch his nose for much of the flight except for those times when he had to get up and step over my feet. The flight attendants had a dandy time reaching over my lap, flipping down the privacy screen and doing deep backbends to try to serve the rear-facer his vittles.
I was anxious to try the rear-facing seat – but not on a nine-hour flight. I wonder if I would ever accept a seat on a bus that faces backward? Why hasn't anyone at Jaguar designed a back-facing passenger seat? What do these folks know that the chaps who came up with rear-facing airline seats on long-haul flights don't know?
The prevailing theory is that you might feel some slight sense of unease as the plane takes off and again when it begins its descent. But mid-flight, it is said that the privacy of a rear-facing seat is quite desirable for sleeping. It is also claimed, though no one has ever proven it, that a rear-facing seat is more desirable in case of the need for a hasty exit from the aircraft. Since I actually believe that the safest place I can ever be at any one time is flying aboard an aircraft, I just don't think a lot about a hasty exit.
The connection in London went well, despite the time required to go through customs. Even though I was a "Transit" passenger, it took the better part of an hour to complete the process. But I knew, from experience, that it would. I would never allow any client connecting through Heathrow's Terminal 5 any less than three hours to do it successfully. That is because I realize that the entire connection experience at this airport is a test of stamina and patience. It is all a strategy game without clues.
As if to prove the point, all of the carry-on's in our family were targeted for special inspection. As they came through tiny security tunnel they hit a conveyor belt where passengers pick them off the belt. But a fellow standing next to the machine pressed a button and diverted all of our luggage to a different belt that was seriously backed up with about twenty pieces of luggage ahead of us.  It was a good 45 minutes before the single inspector had time to pat down the inside of our bags with a wet nappie. She had spread much of the interior of our carry-on bags across her counter and left it to us to re-pack it as she, ever so slowly, moved on to the next bag in line. The entire security process had stopped because bags needing to be examined were backed up to a point that the "off-ramp" for suspected terrorists was blocking the exit of bags from the scanner.,
No worries. We had allowed for the absence of competence at Heathrow. Besides, it was fun to sort of wait around security watching the unsuspecting emerge only to discover that this Terminal does not post departure gates until about twenty minutes prior to scheduled departure. The anxiety was palpable and good for the shops.
We made it to Venice a bit behind schedule but, all in all, in fine fettle. That is until we entered baggage claim.
There were clients on our flight who did not receive their luggage. There was one, rather harried young man who spoke English trying to direct all of those with lost luggage toward a line in the distance.
I was confident. I've lived in Italy and Italian chaos is a thing of beauty and humor if you approach it in the right frame of mind. But my clients weren't in that frame of mind. They were tired and frustrated. I needed to help them get their luggage back.
It turns out that the major airlines do not have their own lost luggage departments. They farm it out to a private company. Ours was called Avia Partner. I waited in their line for an hour with our clients. There were 37 of us in line waiting to make a claim. After an hour I noticed that the woman with pink streaks in her hair and monocles was still at the front window with the lone attendant.  
I also noticed that the operating hours for this office at the airport was 10:00 am to 1:00 pm and again from 3:00 pm to 6:00 pm. The airport lost and found takes a two-hour lunch and closes.
We left. But the airport was under construction, so everyone bound for the bus that would take us to our hotel had to walk in the broiling sun. The parking lot was under construction. It was a horribly long walk in the heat.
On board the ship we discovered that Venice has an unusually high rate of lost luggage and that August is the worst month statistically. This has more than a little to do with the fact that many of the sharp employees of service companies within Italy are away on vacation. There were more than forty guests on our cruise who were sailing without luggage. I made it a point to check and every single one of them did, eventually, get their luggage within the next five days.
Cruise ship personnel tell me that July and August flight connections through London, Paris, and Amsterdam, have the highest rate of lost baggage reports. This mirrors what I have been hearing from pre-cruise hotel management. At our pre-cruise hotel, the JW Marriott, there were more than twenty guests who lived out of their carry-ons and what they could purchase in the gift shop.
I will likely be recommending that my clients flying to southern Europe in August consider using a private luggage delivery service.
A CHECKLIST OF OCEAN AND RIVER CRUISING TRENDS AND INNOVATIONS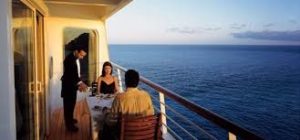 I think that mid-summer, pre-election, maybe a good time to take a look at some of the major trends we are seeing in both the cruise and riverboat segments. Since so much of the media concentrate on cruising's "Big Three", I am going to concentrate on some of the trends we are seeing at the upper ends of these markets:
THE CRUISE INDUSTRY IS GROWING AT ABOUT 4% A YEAR
This is happening despite some nasty weather, Zika mania, and perceptions of terrorist threats. C.L.I.A. is predicting that more than 24.2 million people will enjoy an ocean cruise this year. The biggest gains have been in Asia, up 24%, and in cruises that originate in Australia, up 14%.
CHINA IS CALLING AND THE BIG GUYS ARE ANSWERING
As recently as 2010, Cruising in China was still on the drawing boards. Cruises in China tend to be sold as complete packages and they are sold by Chinese middlemen who operate price-driven dealerships where they normally charter an entire ship or large portions of an available sailing. Carnival will have six of its ships calling in China this year and Princess has a new subsidiary totally dedicated to the Chinese market. Royal Caribbean has taken the single largest ship-risk, placing the new 4,905 Guest Quantum of the Seas in the market and Norwegian Cruise Line is building a ship specifically designed for the Chinese market.
The question that still needs discussion is just how appropriate are these "Chinese designed" cruises for the American traveler? To what extent will Mr. and Mrs. Mainstreet feel truly comfortable on a cruise designed for Chinese tourists?
LAST YEAR'S FASTEST GROWING INDUSTRY SEGMENT WAS RIVER CRUISING. BUT GOING FORWARD IN THE NEXT FIVE-YEAR CYCLE IT WILL LIKELY BE ADVENTURE CRUISING:
Luxury Adventure Cruising is poised, I believe, to become this year's industry growth champion. This all started with a 2013 report from the World Tourism Organization that placed the value of the adventure market at over $265 billion. If this is an accurate figure, it means that expedition cruising has enjoyed a 24-month growth rate of something like 195%, a staggering figure. Get ready for the advent of the adventure yacht boom. Here are some of the key players in this growth:
Lindblad Expeditions-National Geographic went public last year and promptly ordered two new 100-Guest ships for US Coastal voyages. The company also bought Via Australis, and will place several of their ships in the Galapagos after major refurbishments. Lindblad invented non-scientific expeditions to Antarctica fifty years ago. The company operates six vessels carrying 28-148 guests. Instead of casinos and lounge acts your cruise is likely to include top tier naturalists, undersea experts, historians, and expedition leaders. You will also find a National Geographic photo instructor or photographer aboard ship to assure Pinterest Perfect Photos. Lindblad has started including organic food sourcing whenever possible. But, alas, there is no bingo.
Crystal Cruises  took delivery of a polar-class 200 passenger mega-yacht called the Crystal Endeavor in August 2018. She is e 600 feet long and at 25,000 GRT she is the world's "largest and most spacious" mega yacht. She can handle travel within polar regions and in her initial season she will follow the migrating whales from  the Arctic to Antarctica. In order to offer her guests the ability to truly explore some of the world's most remote destinations, the Endeavor will carry a number of "amenities" not previously seen on a luxury adventure vessel. These will include two helicopters to take guests for "flyovers', two seven-person submarines for deep sea dives viewing underwater glaciers and coral reefs, an ATV, a fleet of jet skis, and even a recompression chamber for serious Scuba divers.
Silversea has been credited with leading the growth trajectory of luxury adventure cruising. It began with the Silver Explorer in 2007 and the line will now take one of its five-star luxury ships, the 296-GuestSilver Cloud, and convert it into a polar-class vessel that will enable guests to explore some of the more extreme destinations on earth in the comfort of a one-to-one staff ratio with five restaurants. The line took delivery of the new 596 guest Silver Muse in 2017. This ship now has the highest staff to guest ratios in the industry. Silversea does not dabble in five-star Adventure Cruising. In many ways, the line is redefining the manner in which luxury travelers can truly explore the remote corners of the globe with the assurance that a well-stocked wine cellar will be awaiting them as they return to their ship.
Seabourn is approaching five-star adventure cruising with a somewhat different emphasis. The line is has designed some special itineraries that highlight specific portions of the world high on every adventure traveler's list. These include Patagonia, Antarctica, and the Amazon. Seabourn has two new ships, the Encore and the Ovation. Encore will be delivered later this year with the Ovation delivered in 2018. With these new-builds, Seabourn has decided to up the passenger count of 450 on its current Odyssey class ships to 604.
Scenic, the upstart Australian luxury tour and cruise company is launching, what it calls, "The World's First Discovery Yacht", the Eclipse. She will be sailing to the Mediterranean, Antarctica, and the Arctic, which you would expect of a self-described "Six-Star" vessel whose smallest suites have a butler and a veranda and measure 345 square feet. For something a tad more comfortable, there is a two-bedroom Penthouse Suite at 1,775 square feet. While it may be sounding as though the water routes through the ice in Antarctica may be rather crowded in the next several years, Scenic is also placing its "most technologically advanced yacht in the world" closer to home with a series of cruises in the Americas. 
MEKONG RIVER CRUISING IS A SEXY ALTERNATIVE TO TRADITIONAL RIVER CRUISING
It is said that the Amazon has the world's greatest bio-diversity. But the Mekong River is second with over 1,300 known species of fish along its 3,050 mile long path across Southeast Asia. The so-called "River of the Nine Dragons" will travel the route of the kingdom of Siam to the Khymer. The Mekong is the next hot destination and travelers will discover that the ships deployed on this route are built locally and represent the highest levels of shipbuilding craft with dark wood floor and original furnishings. AMA Waterways, Abercrombie & Kent, and Aqua Expeditions are the leaders in this market.
FOLLOW THE FRENCH FLEET ON A SOFT ADVENTURE WITH FRESH CROISSANTS
It has been said that if you want to vacation in style with good food, just figure out where the French are going on vacation these days. But Americans have another option. They can sail with the French to all seven continents on the laid back, luxury French line Ponant. The original Le Ponant stills sails as  a 64-guest sailing ship. But four sisters, Le Boreal, Le Soleal, L'Austral, and Le Lyrial now form the bulk of the fleet, 224-264 guest beauties each reflecting French style and curving lines but also featuring ice-hardened hulls for polar exploration. Each of the sisters features several lounges, a theater, library and a pool. Ponant's ships are heavily utilized by Tauck Tours in its inventory of escorted sailing itineraries.
RIVER BOATS RE-POSITION BEDS, AND CONVERT WINDOWS TO BALCONIES
There was a time, not so very long ago, when a riverboat sailing any of the continent's major rivers was filled with 120 square foot cabins. That is close to the mandated size of a prison cell in many states. But things are changing on the rivers. Riverboats need to be less than 443 feet long to fit through the various locks. There are strict limitations on height, given low-handing bridges. So riverboats have to get creative within narrowly defined space parameters for cabin design. Uniworld has a simple little switch that raises window glass to form an open-air solarium. Scenic Cruises has a "Sun Lounge", a balcony surrounded by glass that can be easily opened to the river. AMA Waterways has one-upped its competitors by designing twin balcony suites consisting of both a French balcony as well as a larger true balcony. But perhaps the smartest and simplest innovation is that of Avalon's Panoramic Suites which constitute a majority of its cabin categories. Avalon has managed to just turn the beds around so they face the window. The glass wall in front of the bed opens so guests get a sense of floating on the river from the comfort of their bed.
SPA CABINS AND ENVIRONMENTAL STATEROOMS HIT THE LUXURY CRUISE MARKET
Seabourn added new Penthouse Spa Suites on the Quest and they will be added to the line's other ships this year. These suites are just one deck above the ship's larger than usual spa facilities. Each of the suites is one-bedroom with a sitting area and they are decorated in a similar style and colors to match the spa below. They will feature specially designed oversize showers, spa bath amenities, and a soundtrack of soothing spa-influenced music. Crystal Cruises is taking a different approach to health and wellness. The Crystal Serenity came out of dry-dock with 70 remodeled cabins that are cleaned using carefully selected hypoallergenic products. Each cabin is also equipped with special air filters to improve the quality of air. The hotel industry has flirted with this notion of "cleaned more proactively than our regular rooms" concept and decided to abandon it. It remains to be seen if Crystal will find an audience for environmentally treated cabins.
THERE'S A NEW CRUISE LINE SINKING INTO TOWN
Last week, I was able to snag an exclusive interview with one of the most innovative cruise line CEO's in the business. I sat down with Dave Weidenaar of the new Titanic Cruise Lines at his headquarters in Burlington, Vermont for a rather extensive and illuminating "no-holds barred" chat. Here is a partial transcript of our conversation.
RT – Well Dave, thanks for meeting with me, I don't get very many one-one-one interviews with cruise line presidents.
DW – I've read some of your stuff Richard and I can understand why. But what the hey, fire away.
RT – OK, I suppose Dave I've got to start with the name of your new cruise line. Is "Titanic" a really positive image for the cruise industry?
DW – I think I get where you're going with that Richard. I will tell you that our marketing team tossed this around for a few minutes. We didn't just jump in. But when you think about it, what is a Seabourn or a Hapag-Lloyd, what is an NCL? Those names lack the oomph of a Titanic. We're coming out of the box with name recognition. My marketing team won't have to worry that no one has ever heard of us.
RT – Well actually Dave, NCL stands for something. The company is called Norwegian Cruise Line.
DW – I didn't know that. I guess it's sort of like the CLIA. Who knows what it really means.
RT – I was wondering why your corporate headquarters is in Vermont. Most of the other cruise lines are based in Florida, New York, or California.
DW – That would explain why I never run into cruise people in downtown Burlington. These cruise execs seem to operate on the assumption that they need to be near their ships where they home port. I guess they've never heard of the internet. Our management team is in touch with our three ships via e-mail.
RT – Well now let me get this straight. Your three ships, the Nina, the Pinta, and the Santa Maria, are, according to the fact sheet your PR people sent me, registered in Mogadishu. That would be Somalia?
DW – That's right Richard. And I will take full credit for that one. These other cruise ships are registered in weird places like the Bahamas or Grand Cayman. But here's why we went with the Mogadishu registry. No Somali pirates are ever going to try to highjack one of our ships. Because if they did, they would then have to negotiate with themselves to free the passengers. I think flying the Somali flag is brilliant and our Titanic guests will appreciate the gesture.
RT – Well let's move on and talk about your fleet. Each of your ships is a different size. The Pinta carries 203 passengers, the Nina carries 1200, and the Santa Maria carries 4,890. How can you, from a business perspective, justify, such a diverse fleet?
DW – When you buy used you take what you can get.
RT – I understand that your deployment plans for the ships are somewhat unique?
DW –  Well I would say our itineraries are bombastic, unpredictable, and somewhat myopic. I think we have these other lines on the ropes. The Nina will sail out of Hoboken on a seven-night itinerary that includes three nights in Ocho Rios and three nights in Nassau. No one has ever done that before. We know that Carnival is watching every move we make and they must be really jealous that we thought of this itinerary before they did.
RT – Well let me interrupt for a moment Dave. I can see where an itinerary like that will save you fuel costs, as well as food costs, but will it sell?
DW – Our market research says it will. I mean it's not like we're just gonna keep the ship docked in Hoboken for seven nights. Trust me, these other cruise lines move their ships around too much. People want to get off, smell the smoke, play with the locals. Look how successfully people have reacted to Azamara's overnight stays. We pay attention to what the other guys are doing, It's not like we don't get newspapers in Burlington. We've just taken Azamara's "extra nights in port" concept and extended it out a little bit.
RT – What about your other two ships?
DW – Well the Nina is going to be doing some really exciting itineraries and once again we're going to be leaders rather than followers. I mean Crystal and Silverseas do a nice job but we're not doing their Europe. We will be doing an itinerary that we call "Appreciative Europe". We are only going to be sailing to those European countries that actually appreciate what we in the United States have done for them. We want our passengers to feel appreciated when they get off the ship.
RT – OK, so what ports will the Nina be visiting in Europe?
DW – So far, we've found one town in Ireland. But unfortunately, it's inland. The nearest port is 170 miles away. . Come back to me on that one Richard.
RT – And Santa Maria.
DW – She's our flagship. We call her "Big Fatty". She will be based in the Virgin Islands.
RT – Anything you care to tell us about her facilities? I hear that you have some unusual approaches to entertainment and dining?
DW – Well Richard, I hope this is not going to turn into another one of your snippy interviews. I don't think our approach is unusual, I think some of the expensive attractions you see on the other lines like rock climbing walls, parks, indoor skating rinks, wave runners, waterfalls, and those things will never work? Is Royal Caribbean still in business?
RT – Actually, yes, and they are very successful as are their newest ships with the facilities you are describing.
DW – Hmmmm, I didn't know that. I will start reading the Wall Street Journal. But look, no one has what we have on the Santa Maria. The ocean's largest Food Automat. Little glass windows with small plates of food. Guests use tokens to get their food. The higher your cabin category the more tokens you get and the more you get to eat. It is going to be like one big game of Survivor. And it will save us from staffing all those typical cruise buffet stations. You want something to eat, put a few tokens in the slot.
RT – So all of your food will be self-service?
DW – Misquote. I didn't say that. We will have an onboard Applebee's for those seeking fine dining, But our team has come up with a solution to a major problem. Dine anytime versus fixed seating. All of Titanic's competitors have dealt with this issue and they've all got it wrong.
We will have any time dining. But every guest will be given a police whistle. If you do not care for your anytime table mates or waiter, you blow your whistle and your assigned waiter comes running to your rescue. Now that's personal service.
RT – Dave, what is this I hear about your innovative approach to entertainment?
DW  – Our entertainment director has come up with a real winner on the Santa Maria. Our ships will follow the big names into their Caribbean ports. We'll pull alongside and our passengers will don pirate gear, climb ropes, swing onto the deck of the ship next to us while launching a coordinated assault using rubber swords. I think that's a little more exciting than sitting in a show lounge watching the musical "Chicago". We call it "getting involved" instead of "being entertained".
RT – Dave, I want to thank you for this exclusive. I see it's snowing outside so I'll wish you success and head back to Secaucus.
DW – Thanks, Richard. Watch out for the ice.
TEN DAYS ABOARD THE "MOST LUXURIOUS' SHIP IN THE WORLD"
I was not thrilled to be disembarking the new Regent Seven Seas Explorer in Rome. The fact is that I was not quite ready to leave.
I had turned down the initial preview press invitation because we were booked on the ship's second Inaugural Sailing from Venice to Rome on an itinerary that included ports in Croatia, Montenegro, Greece, and Italy. We were traveling with thirty-eight clients on our annual Client trip. Thirty-four of our guests had previously traveled with Regent and its several five-star all-inclusive competitors. In some ways, it was like traveling with three dozen Judge Judy's – ready to observe, listen, and then pass judgment. Would this sparkling new vessel pass muster? Was the hype really justified.?     
About the hype: Like most new-builds, the superlatives began with the announcement of the new ship. This ship would have the largest cabins, the largest suite afloat, the most expensive chandelier, and a Chagall and a Picasso among the 2,200 pieces of artwork. There was the usual collection of statistics – this ship would feature 52,000 square feet of balcony space which actually breaks down to 138 square feet per cabin. On a typical two-week voyage it was predicted that just over 2,000 pounds of lobster would be consumed. Caviar would be served from time to time (there was a table display one day at lunch and I noticed that no one was touching it.
The consumer press was all over the story, having enjoyed their brief cruise before paying guests would board for the Inaugural. So there has been a bevy of good PR for this ship, much of it totally justified, in the days just prior to our boarding.
But here is the thing about this ships hype. I have a bit of history with the NCL/Oceania/Regent group and their management. I remember when they launched the Oceania brand and they produced an introductory brochure that stated that they would have "the best cuisine at sea." I had suggested that it might be prudent to wait until the ship was actually launched and serving meals before making such claims.
But I was wrong. The Oceania food hype was totally justified and so were the pre-launch press releases about dining aboard the new Explorer.
I was unhappy disembarking because I had gotten into the rhythm of the ship and I was able to forge a series of magnificent days.
Mornings were for sightseeing, walking or driving to places I have not been to in a while, updating hotels, restaurants, and meeting locals who might be useful to me in the future. A shop here, a guide there, a hidden ice cream haven in Amalfi. The goal was filling an entire little black book.
But the late afternoon was for the spa. Then, a quick shower, cocktails with clients followed by a long, leisurely dinner with friends.  
I won't talk a great deal about the shore excursions since the reality is that cruise lines have less control in that area than the public imagines. On Regent they are, for the most part, included. In Taormina, for instance, you could get transfers to explore the town on your own. I noticed that Regent has pushed back the departure times of many of its morning shore offerings so guests can have a proper breakfast before going on tour around 10:00 am. Complimentary transfers were included in town where necessary. There were some longer stays. Regent is recognizing that the sophisticated traveler wants some downtime not a perfectly-timed series of never-ending historical sightseeing marches through Europe's churches.
Please forgive me, but I feel compelled to generate some of my own hype for the onboard Canyon Ranch experience. It was, simply put, the finest spa experience I've encountered in more than thirty years of travel in the company of one of the world's top spa consultants.
Each of my scheduled services was preceded by a professional interview. Notes were taken and specifics were discussed that would truly personalize the experience. My massages were done by Thai therapists who began the deep tissue back massage by jumping up on the table with me. That allows for extra pressure from the knees and elbows.
One of my therapists explained that she felt she had found the core of my being, something I've been searching for these past several decades. It involved dripping oil and a single finger pressed down on a location near the center of my scalp. I actually saw heaven and I had a Philly Cheesesteak while I was there.
But that was only the beginning. After the treatment, there are a bevy of relaxation venues including a cold room with ice walls, and a scented sauna. Afterward, I walked out the back onto a private balcony with an incredible infinity pool hovering over the back of the ship. There, a spa butler brings you drinks while you spend as much time as you want to relax. I loved the infinity pool when the ship was in port – it provided a perfect vantage point to watch the action.
Much has already been written about the design of this new ship. Yes, there is marble on marble, stone, and granite. The lighting was never glaring, always elegant, and after ten days I was still discovering little design details like the lights in the main Compass Rose Restaurant, bursts of yellow along the side walls with shades of blue in the center of the room. You could actually hear guests discussing the lighting on-board.
There were more high ceilings than one expected and some guests speculated that the "ship is half-empty" despite the fact that every single cabin was occupied. That is when a ship's designers know that they got this one right.
But I prefer not to dwell on design. This ship was budgeted at $450 million and it went over by more than a little. Speculation is that it actually cost closer to $600 million. For that money, I would expect that the design would be exceptional.
It is, however, the human factors aboard a new ship that matters most. What is the ship's lifestyle and how does it mesh with the guest's demographics. This is where the Regent Explorer achieves a sort of nautical nirvana. My group and I found we could live our lives on this ship, relaxing when we wished, butlers always on call, imaginative and memorable cuisine, culinary classes that were filled with great takeaways, enveloping comfort of fine art, and a spa that has no peers at sea.
It would be tempting to devote all of this space to a celebration of the cuisine aboard this ship. But much of the food was, unfortunately, rather ordinary, and we saw signs of budget-cutting. Breakfast was the weakest meal. Some of the fruit was flash frozen and some of it was canned. A surly chef refused to speak to guests ordering omelets from his station and waiters would scamper over to hurriedly write down orders. Each guest ordering eggs cooked to order was asked for their table number but most guests were not aware that their table even had a number.
 We noticed trays of baked beans, inappropriate as a breakfast item for a mostly North American clientele. The corned beef hash was right out of a can and no one took the time to drain the water from the can, leaving the "hash" to appear to be floating.
As a chef poured a huge tray of scrambled eggs into its metal pan on the buffet line I asked him how he achieved the deep yellow color and creaminess of the eggs. He explained that he took the powdered eggs and added "lots of sticks of butter" to make it runny.
Waffles looked to be frozen and were not cooked to order.
Lunch was satisfactory but hardly worthy of five-star dining. Hamburgers were not hand-made and the buffet items were, at times, repetitious.
Dinners, on the other hand, were often memorable, with even the most hardened critics finding lots to like about the staff and the innovative cuisine.
The toughest reservation seemed to be for the Pacific Rim. I barely made it into the restaurant as I was totally taken by the $500,000 Tibetan Prayer Wheel at the entrance. Guests can pick any wheel, spin it, and contemplate the message it contained. It was a thoughtful, distinctive piece of art made of cast bronze from Australia. It required a reinforced floor to support it. Most CEO's would never consider such an expense for something so unnecessary and challenging to install. But the entrance to this restaurant had to be memorable and it is fully indicative of the amazing attention to deal that I found walking around this ship.
The art continued on the plates. There were Versace's at every setting and each was themed. There was a sake menu, incredible appetizers including sushi and sashimi prepared by knowledgeable hands. The main dishes included a memorable Miso Cod but the most popular dish is the lobster tempura served in a lobster shell.
One night we were seated in the Prime 7 steakhouse with friends in our group, a newscaster who had just returned from covering both political conventions. I ordered a 16 ounce T-bone steak because I knew they were using Colorado Prime. The waiter leaned in and quietly whispered "sir, I can make that a 32-ounce cut if you would prefer."
I declined – but it is really nice to know that there is a ship out there that provides more than you want and a lifestyle geared to exploration, relaxation and truly memorable dining experiences.          
Was everything perfect? No, not at all. But this was only the Explorer's second sailing and I expect that the needed service improvements will be initiated.
For the record, both embarkation and disembarkation were totally impersonal with no officers to be seen. No one said goodbye to departing guests on the last day. The staff did not score well on our "Recognition Tests",  and guests were almost never addressed by name, a hallmark of luxury service. The front desk staff was informative but did not seem anxious to go the extra step to assure a true luxury experience.
Cabin staff was generally excellent and we did see signs of anticipatory service. Butlers were extremely helpful and tried to make it clear to, sometimes confused, guests exactly what it was that they could do for them.
Regent will be building a second model of this ship to be launched in 2020. They got the hardware right with a classic yet contemporary design scheme that seemed to us to be a bit darker than expected. We are not certain how the dark wood accents and floors will age.
The entertainment on-board was lackluster and many guests simply stopped going to the theater at night after their first "production show" experience.
The lecturer had done the circuit many times and had a canned series of historical presentations that were of little interest to the majority of guests.
As with any new vessel, there are lots of things that will require the attention of management. But getting this new design right the first time is a major achievement. The cabins and the public space are generally superior to what we find on other vessels. But guests should be aware that the G and H categories are actually significantly smaller than their counterparts in the rest of the Regent Seven Seas fleet.
AN OPEN LETTER TO CLIENTS CONSIDERING A DIRECT TRAVEL BOOKING WITH A TOUR OPERATOR, A CRUISE LINE, OR A HOTEL
Dear client:
I hope and trust that you will book your next vacation with our firm. But we know there are alternatives out there, and we know you are receiving mailings and seeing ads that often urge you to book directly with a travel supplier online.
We enjoy an open and honest relationship with our clients. So I would like to share some straight talk with you about using toll-free numbers or websites to book your vacation directly with the provider.
The best-kept secret in the travel industry is that those who book direct are paying for something they are not receiving: the services of a professional travel consultant.
I realize you are being told that it is easy to book your cruise, tour or airline tickets online. You can do it yourself. Just trust the supplier to take care of everything and have your credit card within easy reach.
Be thrilled that you live in a time when you can just click and travel. It's all so easy, isn't it? Turn over your credit card number and personal information to someone in a cubicle in a reservations factory or, better still, to outsourced labor working out of a call center overseas. Now your credit card information is in Bangladesh, and your vacation will be expertly planned and delivered.
So why use my services?
Well, the first thing you need to know (the industry's best-kept secret) is that you are going to pay my fee or commission when you book directly because it is always — not sometimes, always — built into the price of any brochure program. It's the way the industry prices.
Tour operators and cruise lines, even top-grade hotels, love direct bookings because a portion of the travel agent's commission that is built in to every program simply goes into their pockets. They believe that it costs them far less to maintain order-takers in a reservations center.
One hotel chain, years ago, was actually using prisoners on work release to handle phone reservations. Most telephone res agents who work for cruise lines are commissioned salespeople with little knowledge of the industry. Their goal is simple: Try to get a direct booking, earn their smaller commission, and let the company pocket the rest of the total commission built into the fare.
So when you book something directly, you are making a sucker bet that the person on the other end of the line has your best interests at heart, will look out for further discounts and apply them to your record and will be there for you in an emergency. Imagine what happens when you make a direct booking. Your credit card information is stored, and you receive a computer-generated invoice. That's it. You are now a travel statistic. The computer software that is now your "agent" will notify you when final payment is due, and you will receive final documents.
Of course, you will not receive any of the amenities available through our office, so you might actually be missing out on pricing incentives and advantages.
Let me state it as clearly as I can: With the exception of certain airline and hotel websites that run occasional online "sales," you will never receive preferred pricing on any online site. If a tour operator or cruise line did not give us pricing that was equal to or better than what they offer on their site, no reputable travel consultant would ever again sell their product. It just never happens. You can always count on the fact that our pricing will be as good or better than any tour or cruise prices you see on direct booking sites.
But frankly, I don't want you to book with us because it is always a better value than booking directly. There are other, more important reasons that have little to do with price.
There is not enough space to list all of the things we provide to our valued clients that are never provided when you book directly with a cruise line or tour operator. But here are just a few to keep in mind:
We are going to compare what competitive companies offer. We are going to advise you on the very best product to meet your needs. We can point out the advantages and disadvantages of several options. Booking directly puts you in touch with a single-product sales person. That is all you get.
We provide special documentation and advice about ports, sightseeing options and even restaurants. We know the best times to do your itinerary, and we might have affiliated offices abroad that can make your vacation truly memorable.
One of the most important things we can do is analyze your travel insurance needs. If you book direct, you get no options, no discussion. You are offered only whatever the site happens to be selling. We offer a universe of options, and that often saves you money.
Suppose something goes wrong? Suppose someone gets sick, and you need help getting home in a hurry? Suppose your vacation experience was unsatisfactory? Who is your advocate if you are dealing directly with the company operating the program? You have none.
Perhaps the most important single thing that we do is give you an honest, unbiased view of both the upside and downside of the vacation option you are considering. Book direct and you get none of that. Everything about the product will be painted in glowing terms. Everything will smell like a strawberry.
Finally, a personal note.
When I go to sleep at night, I am generally aware of where my clients are traveling and what current conditions they are likely to encounter. I worry about my clients. I think about their welfare, and I think about ways that I can enhance their experiences abroad. I am fairly certain that the direct booking tied up somewhere in a supplier's software booking program is incapable of showing a "booking statistic" much empathy.
A LOVE STORY: TRAVEL EDITION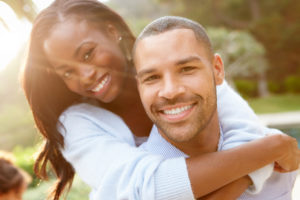 They come from very different backgrounds. But, as sometimes happens when the travel gods are smiling, their paths unknowingly crossed. I thought you might like to hear about it. This is a bit of a love story. And this love story comes complete with a guardian angel.
Olaolu was born in Nigeria. When she was seven, she moved to Botswana. Her brother went to the States to study and she, through hard work and effort, ended up at Smith College majoring in Math.
Patrick spent most of his youth in Nigeria. He came to America and managed to land a spot at Amherst College. Without knowing it, he was only two blocks down the street from where Olaolu was living while attending Smith. But they never met.
They both went on to work on Wall Street. Through a chance meeting, they met in 2002 and realized how much they had in common. Patrick went on to attend Wharton but he proposed just before heading off to school.
They came to a travel consultant for a two-week honeymoon. They would first spend a week at a deluxe inclusive resort on the Mayan Riviera in Mexico. They would return on a Thursday to their home in New Jersey and then leave the next day for a cruise on Regent Seven Seas Paul Gauguin in Tahiti.
On Friday, a tearful bride and groom called their agent. The day before, returning from Mexico, they had somehow lost Olaolu's passport after arriving at JFK. They had already missed the flight out to Tahiti for their pre-night stay. Patrick had called every police station in New York City. The passport had not been turned in. They called every taxi company listed in the phone book. No one had their missing passport.
Their cruise was in ruins, a trip they had dreamed about for a very long time.
But Tara Cieciorka was on duty that Friday in Regent Seven Seas res. center in Omaha. And with two and a half months experience on the job, she took the call from the agent. It was the first time that she had ever had a phone job. She had previously been a cashier at Ace Hardware. Tara had something, some special something that helped her immensely that day. She had empathy.
Instead of quoting cruise line cancellation policy, Tara Cieciorka said something that was far outside the training manual. She said "Oh, I feel so terrible for them. We have to try to figure some way to save their honeymoon. We just have to come up with a miracle. For you, we will do anything. Can you hold"?
"Yes, Tara,' said the agent,  "I always hold for miracles."
About ten minutes later, she came back on the line to explain that "We all feel awful about this and we can only imagine how terrible they must feel. So please tell them that Regent is going to give them full credit for their cruise so they can still have their honeymoon on any one of our ships whenever it is possible for them to get time off.'
That was it – no letters, no insurance claims, and no negotiation. Tara had answered the phone, owned the problem and found a solution.
The couple could not believe the good news. They choked up with emotion and gratitude. But that was not to be the end of the story.
Patrick has an extremely logical mind. Why assume, he reasoned, that someone who finds a passport in a taxi from JFK was headed to New York. Suppose the passenger lived in New Jersey. He began calling every police station in northern New Jersey. On his fifth call he was told that, yes, his passport had been turned in to the precinct. The desk sergeant was holding it in his hands.
The agent called back Regent Seven Seas. Somehow he knew that Tara would answer the phone. The passport has been found. Is there any way they can leave tomorrow and still make the ship?
Twenty minutes later, Patrick and Olaolu were informed that they were going on their honeymoon. At some expense, Regent supervisors had decided to; once again, make this honeymoon happen as it was meant to be. Space was cleared on the non-stop flight the next day. Tara delivered the news with an enthusiastic "we did it."
Patrick and Olaolu have never met Tara. They do not know that there was a guardian angel overseeing this trip. Tara told the agent that "this is what I do. We really care about our guests."
There are other Tara's out there in reservations centers around the country. But when I call Regent and Tara answers the phone, I know that my clients are in the hands of someone who really understands that we are the bottom line, in the business of dreams fulfilled.
Whenever this business gets me down and I find myself wasting time with incompetents who just don't understand true customer service, I will think of Tara. And that will make me feel better.
THE NEW CRUISE LINE FROM THE FOLKS WHO BROUGHT US THE HOTEL OF DOOM
"No man will be a sailor who has contrivance enough to get himself into a jail; for being in a ship is being in a jail, with the chance of being drowned… a man in a jail has more room, better food, and commonly better company. " – Samuel Johnson
More than a few eyes in the cruise industry are now focused on the development of new business in Asia and the Pacific Basin… Costa was the first line to recognize that potential, placing a ship in China in 2006. They've invested more than 50 million Euros in the Asia market and they will exceed 100 calls in Chinese ports this year.
Royal Caribbean has seen huge growth in the China market since placing the Legend of the Seas there in 2008. Think about it, 75% of their passengers boarding in Tianjin and Shanghai are Chinese. What an extraordinary opportunity for Americans to go on a vacation where they can actually get up close and personal with Chinese citizens. I may require my clients to do a cruise like that before I agree to send them anywhere else.
Look at it from the cruise line's perspective. The Asia Pacific Region has more than 3.5 billion potential cruisers. So cruise lines are in a mad rush to set up China-based sales offices and to find the best way to say "It's different out Here" in Mandarin.
But you see, that is the problem. All of the most intelligent eyes in the cruise industry are focused on the potential of cruising in China. But no one is paying attention to the growth of a new cruise line in Asia that threatens to put them all out of business.
It turns out, you see, that North Korea is entering the cruise business. Now some might not take this seriously, since North Korea's capital, Pyongyang, is home to the Ryugyong Hotel, described by Esquire Magazine as "The Worst Building in the History of Mankind." I took that remark to mean that the author didn't care for the architecture. We'll get to North Korea's cruise ship in a moment but the good news is that it was not designed by the same team that built the one hundred and five-story hotel, a property so hideous and unsafe that it has not had a single guest for two decades. You may be able to Google this 3,000 room hotel if you are lucky enough to find an unofficial photo of the Capital in which the hotel has not been airbrushed out. North Korea takes its investments in tourism seriously and the government poured 2% of its entire gross domestic product into the so-called Hotel of Doom.
So with this background, what could we expect from a new North Korean cruise line?
In early November, 500 Chinese tourists, travel agents and North Korean tourism executives boarded the "cruise ship" Mangyongbong in the North Korean port of Rason for a leisurely cruise down the east coast of the country, disembarking in Kumgang. It isn't hard to board this new cruise line. You simply work with the proper travel agency in China, get yourself to the Chinese city of Yanji, and then do a three-hour drive to the port. But bring a cushion; the roads are filled with large holes and small craters.
The Mount Kumgany Region, the highlight of the itinerary, is actually quite beautiful and it was a resort area that was to be co-developed by South and North Korea, accepting tourists from both countries. Unfortunately, this tourism harmony sort of fell apart when North Korean guards started shooting South Korean tourists.
Now, North Korea has a new partner in the Chinese and they are working to build up a cruise industry while encouraging outside investment. The Vice Mayor of Rason mentioned in an interview that people from Jamaica don't need a tourist visa. But they can't bring their mobile phones. Why would North Korean officials believe that tourists from Jamaica would want to sail out of North Korea on a short cruise? It must be the ship.
The invited press, including a travel writer for the New York Times, observed that the Mangyongbong was a forty-nine-year-old refurbished cargo ship with rusty portholes and musty cabins. The send-off was memorable as 500 locals dressed in workers clothing waved to people in officers clothing while carnival music blared from two minivans parked on the pot-hole filled pier.
Then fireworks went off, flags were raised, and collections of plastic flowers were tossed onto the open deck.
Cabin categories were rather straightforward. Many guests were asked to sleep on wooden bunk beds but those in lower cost categories were assigned mattresses on the floor. The normal arrangement was eight to a room. Meals were served cafeteria style on metal trays.
As the ship sailed, fresh coffee was served. The entertainment director arranged for Karaoke and decks of playing cards. A fair number of bathrooms lacked water. The food, described by the NY Times as "resembling a mess hall at an American Army Base" was mostly uneaten. Leftovers were dumped overboard but because of capricious winds, much of the food made it back to the ship.
Now I could stop here and we could all dismiss this new cruise product. But I've read some of the interviews with the Chinese travel agents on this inaugural. And several of them felt that, at about $440 USD for a five-night cruise, it would be a relatively easy sell. It would appeal to Chinese who do not live along the coast as well as the large ethnic Korean population along the Chinese border. Chinese tourism to North Korea is already a reality. And guess what? The Tourism ministry spokesman alluded to a "much newer" 900 passenger ship to be added to the fleet. But they are looking for a little "investment" money.
No announcement has yet been made about possible pre or post-cruise hotel stays using the Ryugyong's available rooms.
This important inaugural cruise ended with a bit of appropriate theatrics as the Mangyongbong crashed into the pier while docking, turning portions of the pier into rubble.
NO KIDS ALLOWED: DISCRIMINATION OR SMART DEMOGRAPHIC MARKETING?
If you are going to open a coffee shop and serve the general public, it is best not to discriminate against guests over the age of 60. Your coffee might get cold waiting for customers.
If you operate a bookstore, the books might sit on the shelves a long time if your front door displays a sign reading that no one under the age of eighteen is allowed in the store.
But we are seeing a trend toward age limitations at sea, as lines try to position themselves as "we're not that", distancing themselves from the larger, family-friendly, "everyone welcome" cruise lines.
This chic "age discrimination" now goes beyond the notion that "we really don't have proper facilities for kids and "you will have to entertain them yourselves". That isn't discrimination. But what about clearly delineated age limitations? Should travel products, whether they be hotels, airlines, or cruise ships, be able to set age limitations to control their demographics? Is it ok to, rather arbitrarily, keep young people off a product simply because the marketing folks have determined that their clientele craves peace and quiet?
Some of us might choose Delta over United or American if they could guarantee we will not encounter children on our flight. But wouldn't we call that discrimination?
Viking Cruise Lines, already a major player and about to get bigger, has announced that guests aboard their ships must be 18 or older. Viking's position on this is that their 50 and older clientele appreciate a child-free environment. I happen to support that view and Viking's right to set the age limits of its guests.
Viking is successful, I believe, in part,  as a result of their willingness to offer educational lectures, live classical music, and tea service in an adults-only environment. It is all-in-all a less frenetic cruising experience and one clearly defined as an adult. Viking wants to operate a cruise line composed entirely of those over the age of fifty.
Can we seriously argue that groups of young kids cavorting about the ship must be a part of every cruise option? And that's the point, isn't it? There are lots of kid-friendly options.
Suggesting that children would not be comfortable aboard and pointing out the lack of dedicated kid facilities is one thing. Baring anyone with children under the age of eighteen is quite something else.
But let's not single out Viking. This is a bit of a trend. London-based P&O Cruises, a Carnival family member, does not allow families on three of its adults-only vessels.
The dynamic new concept in river cruising, U by Uniworld, started out with age barriers for both young and old with a cut-off age of 45. I fully understood that; who would ever want to travel with 46 year-olds barely able to take care of themselves? But Uniworld relented, lifting the ban for older folks – but the "no minors" policy remains in place.
Most cruise lines like Azamara, Celebrity, Crystal, and Oceania do not accept guests younger than six months. But the new Virgin Voyages, set to launch the first of three new 2700 Guest ships in 2020, will not be accepting any guests under the age of eighteen.
So, what we are seeing is that several major cruise lines have taken the position that anyone under the age of eighteen will not be allowed aboard their ships even if their parent's consent to the fact that there are no children's facilities onboard. No one under the age of eighteen. Is this age discrimination or does a private company selling cruises on the high seas have the absolute right, legally and ethically, to determine which age group it wishes to exclude?
THE NEW SEABOURN ODYSSEY; HARDWARE AND HEARTWARE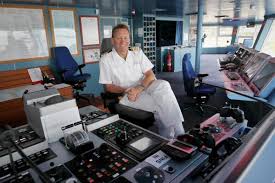 "Never be afraid to try something new. Remember that a lone amateur built the Ark. A large group of professionals built the Titanic."
— Dave Barry
A rather elegant invitation arrived in our office announcing another new ship floating into Ft. Lauderdale.  The last few of these have been rather intriguing in that they have signaled whole new classes of ships ordered in the cruise heyday of the 2007 –2008 sales explosion. These new ships were ordered during waves of optimism. It was a time when people knew that real estate provided a 25% annual return and Goldman Sachs had their best interests at heart.
But the new tonnage now arriving in Florida is backed by winds of caution, Will the new ships, almost always bigger and far more costly than their corporate sisters, prove to be sustainable in this new economic climate?
I was anxious to see the new Seabourn Odyssey. Advance reports from Europe had been unusually favorable and I knew that this ship was the first of three, a prototype that would see Seabourn increase its capacity over thirty-six months by 200%.
The invitation was extended to my family.  We responded that I would attend by myself. No way my wife was going to bring our four and a half-year-old on an overnight preview inaugural.
Then we received a message from Pam Conover, the CEO of Seabourn.  In the nicest way, it was explained that I was not welcome unless accompanied by both my wife and daughter. 
"It must be some kind of family overnight" I explained to Angela and we prepared to arrange the trip down to Ft.Lauderdale.
Two weeks later, we arrived at the pier joining a small gathering of top producers and press, invited to join passengers embarking on a series of longer voyages. I kept my eye out for other families with children but could not find any. I began to wonder if we had made a mistake. Perhaps the folks at Seabourn were just being polite.
After checking in to our suite (in this price range just about every cabin is referred to as a suite) we began our tour of the ship. This was the first new ship launch for Seabourn in two decades and, no secret, it did not go all that smoothly. The T. Mariotti yard delivered the vessel late and some of the cosmetic work had to be completed on the crossing over.
But in three and a half hours of peeking into nooks and crannies, we arrived back in our suite appreciating the lush, contemporary feel to this ship. It was clearly designed to reassure past Seabourn guests while appealing to newbie's who understand that 450 guests served aboard a top-grade 32,000-foot vessel is just about the sweet spot when it comes to a yacht-like experience with space and options. This is a breed of Seabourn that will need to appeal to all the Seabourn loyalists while pulling in a younger clientele with its double size lounges on the Sun Terrace, iPod docks and WIFI, a huge Spa, and the Charlie Palmer inspired cuisine.
The ship's hub, Seabourn Square is a brilliant rendering, merging library, purser's services, Computer area, and a coffee bar in an unusually comfortable gathering place. The Spa is the largest in the luxury category, spanning two decks. But what with 24-carat gold facials, and excessive fees to use the two lovely Sky villas, I wondered if the Odyssey's Spa Manager was given the task of personally paying for the ship's construction.
There was just so much to like. The intimate Restaurant 2 with its innovation tasting menu is bound to be a culinary and evening destination hit. Seabourn sellers will rejoice in the true balconies on this breed of Seabourn. No need to explain why a standing-room only balcony is both French and chic.
My impression is that the Seabourn Odyssey is the new luxury benchmark by which all other luxury ships will be measured. I don't see anything on the horizon that will challenge this new breed of high end, contemporary, all-inclusive vessel. That it comes equipped with the security of the Carnival Corporation's love and attention, and sound financial backing, might be reason alone for the savvy consultant to swear allegiance to this brand.
These were my impressions after touring the vessel. But now it was time to get ready for dinner.
I felt some concern after we got dressed and started down to the dining room. We take our ship inspections seriously and our daughter Bree kept up with us, even running her small fingers across consoles looking for dust. But how would she handle dinner? By this time it was clear that there were no other young children aboard. I was hoping for a corner table next to the kitchen.
As we entered the Restaurant's vestibule, a number of officers and staff were greeting guests. But, almost as one, they all greeted Bree by name. She was chatting back and forth with them and we were escorted to our table down toward the center of the room.
I saw the large table in the center approaching and hoped we would quickly turn. But we didn't. With a very exhausted four and a half-year-old, we had been placed at the table of Captain Mark Dexter, a superbly gracious, Harley-owning Brit who now lives in New Zealand. This is the Captain other lines would love to clone. He is a gentleman with that rare ability to make every guest feel that he is truly interested in their welfare.
There were several top producing agents at the table but Captain Mark focused a fair amount of his attention on Bree. For her part, she somehow was on her best behavior and she could sense the man's empathy and interest in her. He even managed to converse with her about the merits of her Mac and cheese main course.
I sat there watching this magical evening play out on a magnificent ship with a lone child, a child who was discovered at age two weeks abandoned in a basket, placed in front of a rural department store in southwest China. I marveled at where we were at this moment.
And then, suddenly, in the midst of dinner, Captain Mark stood up. Very quietly, but with a broad smile on his face, and in full view of the entire dining room, he took off the Captain's epilate attached to each shoulder, walked behind our daughter and gently placed each of them on the shoulders of her dress. He saluted her and sat back down.
Then, several minutes later, Bree loudly whispered to her mother that she needed "to go pottie." As they walked toward the front of the dining room, Bree, wearing her epilates, ship's crew and guests saluted her as she passed.
I was too choked with emotion to be very good company back at the table. But I can tell you it was a meal I will never forget.
The next morning we were about to be seated for breakfast when I noticed a familiar figure seated alone on the outdoor aft dining terrace. One of the most respected consumer travel editors sat there staring out in the distance. I went and sat down and then quickly realized why she was seated in this specific position. I followed her gaze as the world's largest passenger ship came sliding past the first condo building making her way to her berth just behind us. It was the perfect vantage point to see the arrival of the Oasis of the Seas as her upper deck passed just below the windows of the top floor of the high-rise condo at the entrance to the harbor.
As we entered the foyer to disembark later that morning, Pam Conover and some of her officers were saying goodbye beside the gangway. When she spotted Bree, she knelt down to ask if she enjoyed her cruise. Bree told her how much she "loved Captain Mark".
I realize I have not been particularly descriptive in discussing Seabourn's newest ship. But, in some sense, I hope I have conveyed something about Seabourn people that is, perhaps, even more revealing about the heart and soul of this company.
The Odyssey never left her berth but I will always remember my time aboard her.
AUSTRALIA BY SEA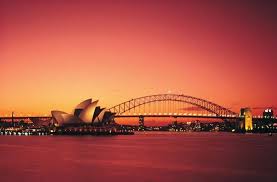 There is a light breeze coming off the water and I sit at an outdoor table at Fish Frenzy, alongside the Elizabeth Street Pier in Hobart, Tasmania.
I am approaching the midpoint of a cruise that began in Sydney and will end in Auckland. With a few days tucked in at either end, I will be away from the office for three weeks, the longest I've been away in two decades.
As is my, peculiar to some, habit, I am not vacationing alone. I've been joined by thirty clients, most of whom I call friends.
But let me start at the beginning.
Having put together the group, and handling the air arrangements through Qantas, the cruise line's contracted carrier, I set about trying to set up our personal air. I would need to buy three Business Class tickets. The quote I received, about six months prior to our departure, came to just over $27,000 for our family of three. Whatever happened to those "Free" airline tickets I read about in the internet ads put out by the card mills?
Wasn't I supposed to just step up to the boarding gate, announce that I am a "travel agent" and watch as the door to First Class opens magically to welcome me?
I happen to like Qantas a lot. They score well in our reviews. But I don't like them $27,000 worth. So we scouted around a bit, just like consumers who sense there might be something better out there.
There was. I jumped on some Business Class promotional fares from Virgin Australia and saved just over $11,000. I will tell you about their service in a future piece.
You may recall, dear reader, that we now travel the world with a five-year-old in tow. So we decided to break up our trip in and out of LA, with pre and post stays at the newest joint in Beverly Hills. I always like to have a taste of the real America before getting boarding an aircraft for a long trip abroad and Beverly Hills seemed just the place to get my bearings.
On the way to the airport, the limo driver explained that it was refreshing not to have celebrities in his car for a change, and then went on to tell us which major league actress he was picking up as soon as he dumped us on the airport curb.  We thanked him for his sentiments.
I was feeling a bit the failure, as I hadn't, journalistically, been able to figure Beverly Hills out in the twenty-four hours I spent there. But I was able to do one bit of research for you. I did carefully count the number of air kisses I could observe from arrival in LA to my flight out the next day. That number came in at twenty-seven. But I sort of cheated because I spent more than the normal amount of time in the lobby of my Beverly Hills hotel and I was thus able to collect about twenty air kisses for my project in a relatively short time..
We had a wonderful flight, spent several days in Sydney and then moved on to Melbourne via portions of the Pacific Ocean.
In Sydney, we stayed at the Park Hyatt, a sort of deluxe motel type structure overlooking the Harbor and the Opera House. It is one of the top tier properties in Sydney yet it will be closed for several months as a major rehab takes place. The Observatory is a lovely small property and there is a Four Seasons. But there is no five-star superstar in this town of bountiful delights. In fact, it seems to me that this world-class city, this place that keeps winning all the "Best City in the World" awards when San Francisco comes in second, is underserved when it comes to properties of note and true luxury. But that may also have to do with the local mindset toward design. Aussies just aren't that taken with marble bathrooms and Grecian columns.
On the tiny poll deck above the Hyatt, I swam in the miniature pool overshadowed by the girders of the Sydney Harbor Bridge, a somewhat more compelling site then the languid flow of the Opera House. I felt this even more strongly when I discovered that I could lay on my back and float while watching some of my clients as they pranced aloft on the bridge's upper walkway.
The Opera House has come to symbolize the city, a World Heritage site that emerged from the mind of the Danish architect Jorn Utzon. His concept was originally rejected and then saved when the Finn, Eero Saarinen determined that it was worth another peek.
Sydney's most famous building sits on the site of the former Fort Macquarie Tram Depot. The design story of the building is rather fascinating since it originally involved geometric concepts that had not yet been invented. The parabolas that were to be held up by ribbing of concrete would likely not have worked and certainly would never have come in anywhere near budget.
But before I dive too far into this let me say that the Opera House was not nearly my favorite thing about Sydney. That would be the Circular Quay Ferry Terminal.
True it does not have anything like a soaring roofline that seems to be in flight. The ferries aren't even remotely as appealing as the ones that ply the waters of my old stomping grounds in Sausalito and Larkspur. But visiting Sydney, one is struck by the water and the absolutely effortless ferry system that allows drop-dead gorgeous transport to Manly Beach, Neutral Bay, Watson's Bay, Tarona Zoo and on and on. Sydney is a series of waterways that are an integral part of the layout of the city.
A local blogger on an Aussie news site said it better then I ever could after someone had the temerity to suggest that Melbourne is the more interesting of Australia's large cities:
 "If you don't love it leave. I've been around the world twice over,. I had a wild rhino chase me in Zambia….I shared a cup of water with a child suffering from malaria and god knows what else in Zimbabwe…I've been harassed by beggars and feared for my kidneys in China and pickpocketed in France…I was held up in Rio and mugged in New York and London….but I loved every minute of my travels and I will go back to these places again and again. ..But when I land home in Sydney and I see that beautiful bright blue sky and sparkling harbor there is a feeling deep within my bones…I LOVE this luck country of ours and all the beauty that it holds."
NO WORRIES WRITING THIS ONE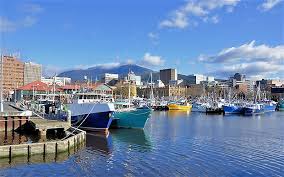 So here I sit, at an outdoor restaurant, along the harbor in Hobart, Tasmania. There are working fishing boats in front of me with a wonderful town behind us and mountains to our left. It all feels like the Norwegian fjords, except that everyone speaks some bizarre form of English and everyone seems eager to share their discovery of the good life.
The folks traveling with us have done something I've never before observed as an escort anywhere in the world. They have, with some serious intent, engaged in discussions of actually retiring in Australia. At one time, that would have been fairly easy, but nowadays, one needs to be self-sufficient in a Goldman Sachs retired department head, sort of way.  We're not at all sure the Aussies will have us and, anyway, we've yet to meet the Kiwi's.
So what is it about a short time in Australia that makes an American want to move there? After only nine days of running about small portions of this vast warehouse of a country, I don't have it all figured out. But I do know it has something to do with the fact that the Aussies just don't devote a lot of energy to trivial kinds of pursuits. Every Aussie we've encountered seems to be unaffected by attitude. They just seem to have somehow figured out what is important in life and what isn't.
I was in the country just a few days when I started to hear what, for me, became the operative phrase of the country, the one unifying force in this vast, special land.
"No worries". Or the more brotherly version, "No worries mate."
You hear it everywhere, from the hotel doorman when you ask directions, to the bookseller who you thank profusely for her time spent climbing a ladder to get you a book from the top shelf.
Go to a restaurant and ask for the fish sauce on the side while substituting veggies for rice. It is always "No worry."
If North Korea made a mistake of geography and actually launched a missile or two at Canberra, I would imagine the first thing the Minister of Defense might say would be "No worries" before knocking them to kingdom come.
The more time I spend in this place the more I realize how the No Worry Nation is so appealing to outsiders. These folks, just don't sweat the small stuff. What you see is what you get. It is a huge nation, filled with "No worries." So you rarely see folks with any pretensions to trendiness. Aussies aren't searching for identity and if you won't accept them as they are – well then, stuff it.
I was so taken by the "No Worries" phrase that I tried researching its derivation. At a coffee shop, I found a white-haired gentleman, a retired government official, who smiled broadly when I asked him about it.
He explained that when Australia was primarily a British penal colony, convicts were allowed to earn time off and a clean slate, despite the harsh conditions. On the day that the convict was finally freed from the prison, he was given a piece of paper that meant he was free of all debt to society. At that moment he was said to have "No worries" and some warders actually wrote it on a slip of official paper.
My fish platter arrives, heaps of fresh catch in a large paper cone, along with a bottle of Cascade Blonde. Rule number one when traveling down under, I quickly learned, is never order a wine or a beer with which you are familiar. Fosters is considered by many to be strictly for export. Always go for the local favorites.
I am surrounded by Aussies but only two are locals. The rest are vacationing in Tasmania, a land known to be even more laid back then the big island.
Once you leave Sydney, you invariably get into discussions with Aussies about which part of Australia you prefer. What that really means is, how do you compare Melbourne to Sydney. You don't hear Melbourne discussed much in Sydney, but Melbourners seem obsessed about their second city status.
I could easily turn this into a ten-part series so let me get to the point. If you travel by cruise ship, as I am, you are not going to see Australia. But you are going to see it's major urban centers. You are going to get a feel for Aussie city life and then, later, in New Zealand, you are going to see smaller towns and magnificent countryside.
I preferred Melbourne to Sydney. I base this on what I perceive as liveability, a more laid back lifestyle, better developed ethnic neighborhoods, and a more entrenched and open cultural scene.
I saw Melbourne, as much of it as I could, the city the suburbs, the parks, from a horse-drawn carriage, a car, and on foot.
The center of the city is filled with impressive Victorian buildings that grew up out of the Gold Rush. The city is orderly, amazingly clean, and the streetcars seem to glide effortlessly.
There are the ethnic neighborhoods. Lygon Street has wonderful espresso bars befitting Little Italy, Brunswick is the Middle Eastern portion of the city and Richmond is little Vietnam. There is a thriving Chinatown. What makes this all so special is the setting, a coastal plain at the top of horseshoe-shaped Port Philip Bay.
When I left downtown San Francisco forever, I never thought I would ever again see a city so beautifully framed by the sea. Melbourne is that – and more.
Sydney has the sites but Melbourne has the sensibility. It is just about the coolest city on earth.
But now, we are in Hobart, nestled between brooding Mount Wellington and the tranquil banks of the Derwent River. Earlier in the day, we explored this waterside town on foot. We came upon a planned village in town, a wrap-around series of four-story new condominiums surrounding open space with stores on the first floor.
We were struck by what we saw here. A park-like setting with residents of all ages sharing stories, stopping to chat, passing a few moments, in between stops for coffee or shopping. A few little details struck me about this scene. There was a giant chessboard in one corner where local kids had a spirited game. But the fitness of the population indicated that chess was just a sideline. Instead of a department or grocery store, the anchor tenant was a two-story outdoor shop selling everything from kayaking to mountain climbing gear. It was packed.
That seemed to me to represent an accurate portrayal of the value-scale of local residents as well as the country. Sports-minded exploration of the "Land of No Worries" is the way most Aussies seem to roll.
SHOULD WE RECONSIDER OUR CRUISE TO EUROPE?
Q –  Is this really the right time to be thinking about traveling to Europe? We have some concerns about traveling this summer but we really want to go on our planned cruise. What are you advising and how do you handle this question with your clients?
A – For most travelers, whether or not to travel to any destination is a heady mix of emotion, anticipation, a bit of natural fear, and rational thinking about gain and loss. So we think there is no simple answer and we do not want to be seen as salesmen for the notion that you should always travel no matter what. If your fears reach the point where you find it impossible to truly look forward to your journey, we would suggest considering cancellation. 
We have just had a terrorist event in Brussels at two locations that has resulted in more than 30 deaths and hundreds of injuries. Yet, the small restaurants that surround the Maelbeerk train station reopened in 24 hours and the streets of Brussels are filled with local residents who refuse to live their lives in fear. The people of Paris held huge banners that said "We are not afraid" immediately after the recent attacks in their city. We think we must never "Be Afraid" If we are, then those who would threaten us out of envy would win. Here is what we think you might consider before deciding "Should I Go or Should I Stay."
THE FACTS: It is a head/heart thing. The 24-Hour News cycle thrives on the tragedy. It gives terrorists the kind of notoriety they seek. But we are always going to make the best decisions in an atmosphere of calm, using our heads to examine the facts. Here is one worth remembering. Right now, in the world, as it exists, you are 1,052 times more likely to die in an automobile accident than you are in a terrorist act while traveling abroad. You are four times more likely to be struck by lightning than you are by a terrorist act. Your life expectancy actually goes up when you travel in Europe because you are not in the country with one of the highest murder rates in the world and one of the highest rates of fatal automobile accidents.
But some folks want even more specifics. So here are a few worth remembering although there are dozens of others that we could have listed:
Your chance of dying in any kind of worldwide terrorist attack is 1 in 9.3 million
Your chance of dying from a food poisoning is 1 in 3 million
Your chance of dying from a dog bite is 1 in 700,000
Your chance of dying from a car accident is 1 in 18,585
Your chance of dying in your own bathtub is 1 in 685,000
CONCLUSION: Unless you plan to stay off American roads, not walk in our cities or suburbs, stay away from dogs and refuse to bathe, you might as well take that trip to Europe of wherever else you wish to travel. Staying home really is considerably more dangerous.
If you want to look at all this in another way consider: The reason that your life expectancy will increase if you travel to Europe, the statistical reason, is that life expectancy is based on the odds that an act that will kill you will occur. The major cause of death in America is Cancer and Heart Disease. They are travel "neutral" You must look at the other major causes of death in our country, dying in an automobile accident and being shot by our 2nd Amendment. Your life expectancy increases when you travel abroad because you are away from American drivers and gun-toting morons. You are considerably safer traveling than staying home. And that is a fact.
PROTECTING YOURSELF WHEN YOU TRAVEL ABROAD: We want you to avoid bad neighborhoods. Every city has them – well not every city, Dubai and Abu Dhabi are virtually crime-free. You need to have a sense of the neighborhood when working with your consultant to book hotels. Inexpensive hotels skimp on security – avoid them. If you are staying in a major city with a threat that concerns you, avoid US chain hotels and select a good five-star locally-owned property.
INSURANCE: You can always take out a "Cancel for Any Reason" top-end policy. The best of these, in our view, is the Maxi-Policy issued by Travelex. But be aware that the premium for such coverage averages 10-11% of the total cost of your trip.
USE A TRAVEL CONSULTANT WHO IS A MEMBER OF ONE OF THE TOP CONSORTIUMS: They will have access to daily security updates from their on-site offices around-the-world. Using one of these consultants is your best chance of receiving updated, accurate information about your destination.
IF YOU WISH TO DO YOUR OWN RESEARCH THINK OF THE AUSSIES: Our own State Department memos and warnings are often over-stated and issued in an attempt to cover all bases. Savvy travelers, instead, look to security announcements online issued by the Australian Foreign Office for their own citizens. They tend to be more accurate than ours. The British Foreign Office also issued worthwhile reports updating local conditions abroad.
THE ULTIMATE ADVENTURE OR SHIP OF FOOLS?
"A Ship in Harbor is Safe, but that is Not What Ships Are Built For  – John Shedd
It must have been an interesting marine operations meeting. Someone in the room at Crystal Cruises headquarters on Wilshire Boulevard in Los Angeles suggested that the company place the 1,070 guest Crystal Serenity on a 32-Day itinerary that would take it straight through the legendary Northwest Passage route beginning in Seward Alaska and ending in New York City.
The decision was made to go ahead with this plan and the trip sold out in 21 days, one of the fastest-booking trips in recent cruise liner history. It is wise to think about history when considering the Northwest Passage. More than a few explorers died trying to complete the voyage.
This voyage into the record books will begin less than two months from today, on August 16th. And I have to wonder how many of the 1,000 booked passengers and the 645 crew members on this expedition, where no luxury liner has ever gone before, are aware of the storm of controversy that is swirling around this sailing and Crystal's planned  repeat voyage on August 15th next year.
Before we talk about the voyage allow me to state my bias. I would give up my GDS to go on this trip (the fact that I've never had a GDS is of no consequence). It is a true "expedition" in an age when the word has been watered down to include a visit to a Chick-fil-A in a dicey neighborhood. I admire the people who have booked it and I wish I were among them. But I do wonder if they have been adequately informed about the risk many experts see in this itinerary.
Outside Magazine, began their account of the sailing with "if successful, the trip, which ends in New York City, will mark the first crossing of the Passage by a luxury cruise ship." If successful?
I don't believe I've ever seen a luxury cruise line itinerary described as "well it will be adventurous, it will be memorable, it will be fun for all involved if it actually works and avoids disaster." You see there seems to be some doubt. And some of it is coming from some rather impressive sources.
Let's try to put the voyage in some perspective. The route will include 23 different waterways. It is doubtful that the Captain of the Serenity has sailed all of them. There is a good deal of land and ice because the ship will be passing through the unforgiving Canadian Arctic.
This is a water route that has been attempted since the 15th century because it was seen as a profitable potential trade route by nations in Asia and Europe. None of the early attempts were successful until 1906 when Roald Amundsen did the Passage in a fishing boat with a crew of six. He managed to hug the coast and avoided icebergs. But it was slow going. It took him three years. The Serenity is too big to hug the coast. She will be on schedule.
But she won't be the first. Global warming (save your letters deniers – I don't read them) has created some substantial increases in Arctic temperatures. This has tended to break up some of the ice with a good deal of softening. In 2012, The World, the privately owned floating luxury condo building, made the passage successfully. Private yachts have made the journey every summer since then. Last summer twenty smaller vessels made the trip. So it would be unfair to characterize Crystal's voyage as entering the unchartered, untested territory.
The issue and the source of the controversy is the very size of this ship. If something would go wrong, a massive rescue operation would be required and local facilities would be totally incapable of handling an emergency.
That is why CBC News ran a headline on April 3rd "Arctic rescue fears loom as massive cruise ship prepares to sail Northwest Passage".
This is what has the Canadians concerned. Yes, it is true that the ice pack has been shrinking, some would say at a fairly alarming rate, and warming temperature trends continue. This has opened up the "Passage" for commercial shipping and some small-ship tourist expeditions. But make no mistake, the Northwest Passage remains one of the most remote places on earth and one of the most poorly mapped regions of the world. That is part of its charm and that is part of its risk as a luxury cruise destination. The bottom line is that during some major portions of its itinerary the Serenity will be out of range of Canada's search and rescue helicopter squadrons.
This cruise has concerned Michael Byers who holds the Canadian research chair in global politics and international law at the University of British Columbia. Byers has taken to Canada's talk radio circuit to warn that the Canadian Coast Guard is not equipped to handle a disaster in the Passage. In an interview with the Canadian Broadcasting Corporation, he points out that "if the ship sinks, then that would actually break the Canadian search-and-rescue system. They would not be able to get to those people and retrieve them in time."
There has been a previous small ship disaster in the Passage. In 2010, Clipper Cruise Lines Adventurer struck a rock shelf that had been uncharted near Kugluktuk, Nunavut. The nearest coast guard icebreaker took two days to arrive.
Crystal has been extremely pro-active in preparing for this voyage. The ship's Captain and bridge team have attended ice navigation training and two Canadian certified ice pilots will be aboard the Serenity. The guests on this voyage will also have a 'bodyguard" to tag along on the voyage just ahead of the ship. In order to assure maximum protection for its guests, Crystal has contracted for the lease of the RRS Ernest Shackleton, a logistics and research ship that is operated by the British Antarctic Society. The ship carries helicopters and will provide some ice-breaking muscle if needed. It also carries sophisticated thermal mapping equipment used to detect trouble up ahead.
But from a purely PR point of view, I would have asked my bodyguard to change her name. Shackleton, the famed Antarctic Explorer, managed to trap his ship, the Endurance, in 1917 in pack ice. The ship was crushed before help arrived. The crew camped on the sea ice and then launched small lifeboats when it melted. After a stormy ocean voyage of 720 nautical miles, they eventually reached the inhabited island of South Georgia.                                                                                                                                                                                                                 
The US Coast Guard seems to feel that its presence is not required unless pre-trip forecasts indicate a particularly icy sailing. This is just a tad delicate as Canada lays claim to the portion of the Passage that winds its way through Canada's Arctic Archipelago while the United States claims it is an international strait. This cruise will occur before our National election so war with Canada is highly unlikely. As to next year……………..?
Of course, there is an inevitable historical comparison. It appears in several places in the growing literature surrounding this voyage but I prefer using it in the way it was used by the Vice-Commander of the U.S. Coast Guard. "As a coast guardsman", Charles Michel told the CBC, "I don't want a repeat of the Titanic."
In fact, our Coast Guard seems to be uniquely positive about the level of Crystal's preparations for this voyage, many taken at great expense. They seem less concerned about any risk posed to Crystal guests than they do to future mega-ships that might attempt the Passage with less preparation and professionalism. As Jeff Hutchison, a commissioner in the Canadian Coast Guard has observed, "what I'm more concerned about is ship owners who might be looking at this voyage and saying, "Well that looks profitable, why don't we think about that. And they may not bring the same level of planning and forethought."
The legal scholar, Professor Byers, was invited to lecture aboard the Serenity and he claims he turned it down. Speaking to the environmental magazine, "Living on Earth", he pointed out that the ship has a large carbon footprint and his view that the Arctic is "on the edge of a precipice, the sea is melting and the ecosystem is being overturned." The professor sees the expedition cruise as a form of "extinction tourism."
A number of environmental groups are concerned with the impact of "the world's largest luxury cruise ship" on the small towns that dot its precarious, ice-strewn route. In Nome, it is said you can throw a snowball from one end of town to the other. How will residents handle 1,000 disembarking guests intent on an authentic encounter ashore, the kind some of them paid as much as $156,000 to experience?
Among the environmental concerns is the presence of large numbers of Beluga, Bowhead, and Narwhal whales in the Arctic. These animals are extremely sensitive to noise. What will the effect of a giant ship passing through be as they are mating?
Then, of course, there is another "unmentionable". What would happen to this environment if there were to be an oil spill in this highly isolated region? The Serenity will be carrying hundreds of gallons of fuel onboard.
It is the fear of an unseen "growler" that keeps so? environmentalists up at night. The number of icebergs is actually increasing in the Arctic because meltwater moistens the motion of the glaciers into the sea and small chunks of icebergs called "growlers" populate the waters and are very difficult to see. Because they are so dense, these chunks can puncture the hull of a cruise ship.
Crystal has arranged to have polar navigation specialists and ice-spotting radar and lights installed on the Serenity.
In an interview with DW Magazine, Malte Humpert the Executive-Director of the US-based Arctic Institute Center for Circumpolar Security Studies points out that the Arctic "Is not the Mediterranean". He points out that is something goes wrong it won't go wrong on a sunny day. "It's going to go wrong in really harsh conditions. "Suddenly you have a ship with 1500 people, most of them probably elderly, in frigid waters. The largest communities ashore are smaller than the population of the ship. And even with a helicopter or two, how long is it going to take to get those people off the ship?"
On August 18th the Serenity will leave Dutch Harbor to enter the Bering Sea as she begins her legendary Passage where no ship of her size has ever ventured. I'll be thinking about her that day and in the days that follow and I hope you will as well.  May the Serenity live up to her name.
POSTSCRIPT: The Serenity encountered mostly favorable weather conditions and completed her journey without major incident. The voyage was a success in the eyes of the passengers and several of them were shown our article and took the time to respond to tell us how wrong we were. Meanwhile, Crystal and several competing ocean liners are sailing the Pacific Northwest. Most of the sailings sell out quickly. The number of passenger ships doing the itinerary has quadrupled in the past three years.
ANTI-CRUISERS HAVE THEIR OWN SOURCES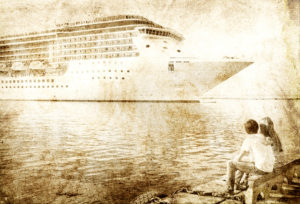 It all looks good at first blush as the US-based cruise industry pitches ever forward despite the occasional rough patch of sea. Think about it; 27.2 million passengers set sail last year. It might surprise you to know that the fastest growing segment of cruisers are those in the age group 30-39. Given the current order book, cruising will be growing far into the future with only the paucity of safe, sophisticated port experiences as a cautionary wind at the industry's back.
Last year I expressed my view that the riverboat industry has not been forthright with consumers in revealing the percentage of itineraries affected by high or low water levels.
Ocean cruising does not have that problem. But there are real, exaggerated, and imaginary beliefs that are keeping some of our clients from sampling a traditional cruise experience on one of the major lines. These are some of the objections and we need to be locked and loaded with facts to dispute them:
Many folks brag that they would never watch one of the "Housewives of ………" fake reality shows. These same folks see cruising as a bunch of party-goers who enjoy being ferried about on a floating amusement park. Love Ferris wheels – you may love cruising. But many folks don't like cotton candy and the thrill of the midway. This is perception issue # 1.
Many anti-cruisers end up reading an article originally published in Harper's by David Foster Wallace entitled "A Supposedly Fun Thing I'll Never Do Again". In his piece, now considered holy grail by many anti-cruisers, Wallace describes cruising as "a special mix of servility and condescension that is marketed under the verb "to pamper". He is adamant in pointing out that cruise ships tell you what will entertain you, what to eat, and what will relax you. This is all done in the name of "luxury". But floating amusement parks rarely produce serenity. What they do produce, the anti-cruiser believes, is the level of luxury one might find in a large shopping mall.
There are anti-cruisers who find their views supported by sites that catalog every misfortune at sea. One of the most popular is Cruisejunkie.com which is written by a Canadian Sociology Professor named Ross Klein. The Professor has been waging a kind of personal war against major cruise corporations and his site keeps track of people overboard, sexual attacks at sea, and crew crimes. One tidy little chapter on his site gives a full accounting of "Ships that have sunk since 1979". There is another entitled "Persons Overboard 1995-2018" for those who collect fun facts.
The Klein view is supported by several cruise sites written by attorneys who are not shy about offering their services for those passengers and crew who are victimized by the powerful brands.
This is just the surface of the anti-cruise movement. The internet is filled with stories about cruise ships that dump fuel and "human waste" into the world's oceans. The ships are accused of being floating pollution factories that do little to allow portions of their substantial profits to benefit local residents in ports where they disgorge day-trippers who have spent their money on-board for shore excursions.
The serious cruise consultant needs to be prepared to address these claims.