The Nation's Most Respected Cruise Consultants Match Who You Are and What You Want to the Specific Ships That will Best Serve Your Needs.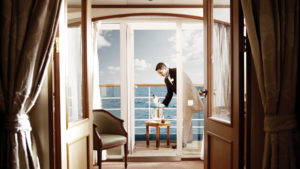 ANCHOR RATINGS
The lines blur when cruise lines claim they are deluxe or "five stars". To truly differentiate overall quality, our team of nationally-recognized, award-winning cruise specialists, evaluate ships on a 20 anchor system. Here is how to interpret our rating system: 
 5   Anchors –Trust us, you might be better off on Amtrak
10  Anchors – Average, mega-ship with institutional food and long lines
15  Anchors  -Better than average, first class, sophisticated, good food
18  Anchors  -Among the best ships at sea. Gourmet food and top service

20  Anchors  -Simply the Best in the World

"We think that a true luxury ship would train its staff to provide sophisticated service while addressing guests by name. Is there any line that takes service and sophistication to this level?
YOUR SHIPS ARE AMONG THE SEABOURN FLEET – 18 ANCHORS
"We are trying to find small ships that offer the highest quality touring in Europe. We would prefer a ship that features European-style food. It would have to be inclusive,"
YOUR SHIPS ARE IN THE PONANT FLEET CHARTERED BY TAUCK TOURS – 17 ANCHORS
"My husband served in the Navy and is concerned that his vacation could be ruined by rough seas. He wants excellent food and the largest ship possible with really good evening entertainment."
YOUR SHIPS ARE THE CRYSTAL SYMPHONY OR SERENITY – 17 ANCHORS
"There are many folks we know who choose ships based on how loose the dress code is and how tight the smoking code is. We're not them. We're looking for the perfect line that combines luxury, elegant late-nights where people dress up a bit, and the opportunity to smoke if we feel the need. An international cast of characters would add to the fun".
YOUR SHIPS BELONG TO THE SILVERSEA FLEET – 18 ANCHORS
"You could say we are more explorers than cruisers. We want to find a cruise line that actually does some of the best explorations worldwide but definitely including Antarctica and the Amazon Basin. We could care less about fancy accommodations but we absolutely want the best lecturers and on-board photographers who will help us bring our memories home."
Your cruise line is Lindblad Expeditions – 14 Anchors
"Our idea of luxury is cruising to off-the-beaten path locations on some of the world's top-rated yachts with fewer than 200 fellow guests. Ideally, accommodations would be contemporary as would the boats and we'd be served by a crew that included some actual French chefs in the galley."
Your cruise line is Le Ponant – 17 Anchors
"We want a Caribbean itinerary that takes us to some of the best "sailor" islands in the Caribbean, skipping most of the islands that the jumbo ships might include. The on-board atmosphere would have to be "Tommy Bahama" casual."
Your ships are the Wind Surf, the Wind Star, or the Wind Spirit – 15 Anchors
"We're not too impressed with new and glitzy. We are impressed with a crew that really cares about their job and the welfare of their passengers. We enjoy evening time in port and wine included with dinner without the need to have an all-liquor included policy so we don't feel that we are paying for others to drink. We're just getting ready to explore Europe and we would prefer doing it on mid-size ships with good service."
Your ships are the Azamara Journey or the Azamara Quest – 14 Anchor

s
"This cruise needs to occupy and impress our two teenagers enough to let us relax a bit. Price is an issue and we want a wide variety of things to do at night"
Your Cruise Line is Royal Caribbean   –  11 Anchors
 "I need a cruise that my anti-cruising husband will love. It has to be informal, small, with great food, no suits or ties, and the atmosphere a sailor would enjoy. Ports the larger ships have to miss and inclusive pricing would be plusses"
Your ships are the Sea Dream Yacht Club 1 and ll  – 17 anchors
"This will be our first cruise to the Caribbean. We want the best ship for the money with lots to do and an elegant atmosphere with pricing below $300 per day. We realize it will not be one of the world's Top Ten Cruise Lines – we're just looking for the best of the really large ships.
Your ships are the Solstice Class on Celebrity Cruises – 13 Anchors
 "We are looking for a ship that caters to people of discriminating tastes, has no crowds, and feature the largest, most comfortable cabins at sea. We also want engaging itineraries with extra time in port and all-inclusive pricing. We want to know that we are on the best cruise vessel available to the general public"
Your ship is The Europa 1 or 2   –  19 anchors

"We are rather demanding, I suppose. We want a new ship, under 500 guests, all-inclusive, with some of the highest service levels at sea. It has to have a great Spa."
Your ships are the Seabourn Odyssey, Sojourn, or Quest – 18 anchors
"We want to do the Caribbean but we don't want the same old ports that the mega-ships have to go to like Ocho Rios or Cozumel. We're looking for casual, quality, and the best itineraries in the Caribbean."
Your Ships are the Sea Dream Yacht Club 1 or 11  – 17 Anchors
"This will be a family gathering. We need good children's programs but we prefer a ship that is good enough to please some of the more sophisticated adults. We don't want drinks or tips included. Choices are important, so a huge ship is fine"
Your Ships are the Celebrity Solstice, Equinox, Eclipse, or Silhouette –  13 Anchors
"The perfect ship for us is mid-size but with the greatest service at sea. We like to be recognized by name and we like to see great shows in the evening, hear interesting lectures, and have some really top-notch dining options. We like sailings of 10 – 14 days duration."
Your ships are the Crystal Symphony and Serenity – 17 Anchors
"This is all about our kids, between the ages of three and twelve. We want them to be occupied and engaged so we can have time to relax. We need the best available kid-friendly ships at sea."
Your cruise line is Disney –  14 Anchors
 "We are seeking the best all-inclusive ship afloat but we do not like formality nor do we care about going to shows at night. Smaller is better than larger and we like nice size cabins and really good food. We'd love to get Business Class included at no additional charge".
Your Ships are in the Regent Seven Seas Fleet –  18 Anchors
"Factoring in everything, and acknowledging that standard mass market food is not for us, what is the best ship for the money in the marketplace for a two-week voyage?"
Your Ships are the Oceania Marina or Riviera – 15 Anchors
 "We are looking for a laid-back, Jimmy Buffet kind of beach-oriented winter cruise getaway with no dress rules, everything included, and terrific food. Oh, and, unusual, off the normal cruise route islands would be nice."
Your ships are the Sea Dream Yacht Club 1 or 11 – 17 Anchors
"The larger ships seem to offer more things to do but we're just not mass market people. Which of the ships in the middle to large size category offers the best quality shore excursions?  We've been somewhat disappointed with the quality of what we have experienced so far."
Your ships are the Crystal Symphony or Serenity – 17 Anchors
"My husband and I love shiny, new, really creative itineraries. We do gamble, we require a choice of several high-quality restaurants, but we do not drink and would not want drinks included. Good value is important as is the ability to dance at night."
Your Ships are the Oceania Marina or Riviera – 15 Anchors
"We have always felt that we would hate cruising, the dress rules, the forced socializing, the cruise directors organizing Bingo, and the crowds. Yet, we realize that cruising the Greek islands by ship makes a lot of sense as does a small ship going to lesser-known Caribbean islands. Is there anything out there for us?" 
Your ships are the Sea Dream Yacht Club 1 or 11 –  17 Anchors
"This will be our first cruise and we are most interested in seeing some wonderful ports as opposed to days at sea. We want good value but we're willing to pay for extra services. New would be better than an older ship and we enjoy really good food. Buffets don't interest us."
Your Ships are the Oceania Marina or Riviera –  15 Anchors
"We've read all the hype but we are really looking for a line that caters to a well-traveled, CEO class of sophisticated guests.. Everyone at our country club says we will love cruising on the smaller, upscale lines. We like getting dressed up for dinner and we prefer a smaller, more intimate environment with a well-trained but unobtrusive staff."
Your Ships belong to the Seabourn or Silversea Fleet –  18 Anchors

"We have sailed previously on the mega-ships. We really like larger ships because we enjoy the evening shows, the casino, and the choice to make new friends. We are willing to pay more then what we paid to sail Carnival and RoyalCaribbean– but not much more. I suppose we are not ready for the all-inclusive deluxe lines and we still want to stay around $350 per person per day, but we really want to travel on the best ships available in that range."
Your ships belong to Celebrity Cruise Lines – 13 Anchors
"Friends who have cruised tell us that once you add in all the extra charges for everything from water to shore excursions, the less expensive cruise lines end up costing almost as much as the best five-star inclusives. We want to sail on the most inclusive and best available ship for the money"
Your Ships are The Regent Seven Seas Mariner, Voyager, or Explorer    – 18 anchors
"We want to see the Greek Islands the way they were meant to be seen, on a small boat with no more than 300 passengers calling at some of the lesser-known ports. We care less about cabin size than about the casual lifestyle aboard the boat. If it has sails, all the better."
Your ships are the Wind Surf, the Wind Star, or the Wind Spirit – 15 Anchors