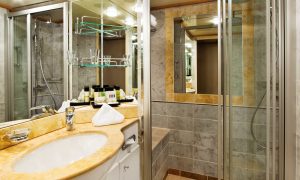 Q – We are starting our search for a long-delayed cruise in the area of the Adriatic. I have some concerns about choosing a stateroom with a bathtub. I really dislike the entire concept of showering, sticking my hair under the nozzle just doesn't suit me. Will I be able to request or even confirm a stateroom with a bathtub on one of the better lines listed in the Top Ten on your site?
A – In designing ships the issue of tubs versus showers is a serious concern. Many older Americans prefer the bat while European guests seem to prefer a shower with a hand-held nozzle for getting at their unmentionables. Large portions of the world actually look at fixed shower heads as unsanitary. Meanwhile, many affluent cruise travelers like nothing better than having their butler turn down the bed and fixing them a warm bath accompanied, usually, by sprinkled rose petals and an opened bottle of champagne iced and waiting. All of which is to say that, yes, on most of the ships constructed within the last several years you will have your choice, a combination bath and shower, or, increasingly, a separate bath and shower in your bathroom. 
In order to help you along a bit, you will likely have both in your stateroom on Hapag-Lloyd, with choices and dual units on Seabourn, Silversea, and Regent Seven Seas. Some of the older ships with fewer than 200 guests such as Windstar and Sea Dream Yacht Club normally offer shower-only. On the newer Oceania ships, the Riviera and the Marina, Penthouse staterooms have a significantly larger bathroom than staterooms in categories below. 
Speak this over with your consultant. You should be able to get exactly what you want. We'll talk about how you wash your hair in a bathtub some other time.