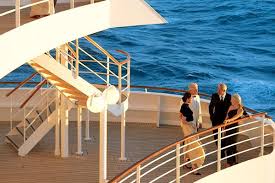 Q –  We have just returned from a Crystal cruise in the Caribbean. It was our first experience with Crystal and we loved the experience – feeling they offer more in the way of entertainment, food, and shore excursion options than the smaller ships they compete with. Our only other experiences have been aboard Windstar (3 times) and Celebrity. We've enjoyed all of our cruises but it all came together on Crystal. We were so impressed with staff and our fellow passengers that we went to the on-board travel agent and booked a Baltic Cruise for the summer of next year. We got the full discounts and an additional incentive for booking on the ship of $400. 
If we keep using Crystal, is there any reason to book with an agent back home since everything seems to have been handled on the ship by their agent?
A –  We're not sure if you booked your original cruise directly or through a travel agent or consultant (two very different things). We do think it makes sense to book future cruises aboard the ship you are sailing because that, almost always, results in some inducement to book. The standard you should look for is between 5-10% after all other discounts for which you qualify are offered. But understand that, no matter what they call themselves, on-board booking agents are nothing more than commissioned sales people for the line whose income is largely based on the amount of future stuff they sell on-board. They are not capable of fulfilling most of the responsibilities of a good agent yet they will still charge you the travel agent commission as if you were using one back home. 
If, on the other hand, you booked your original cruise with a consultant back home, no worries at all. Crystal, and any other line, will automatically notify the agent who made your booking and all of your paperwork/invoice will be forwarded to them. So you get the benefits of the on-board booking discount plus the counseling and personalized oversight of your agent. On-board booking incentives can also be combined with consortium benefits offered by your agent – so it is a win-win. But onbly book on-board oif you know exactly what you want. If you aren't sure, most lines will allow you to make a deposit which will get you the on-board incentive, without the need to pick a specific sailing. That should be thoroughly discussed with a consultant back home who knows you and who really has your back.