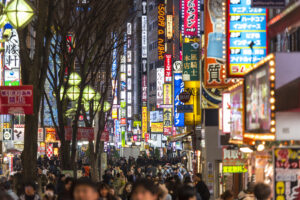 Q –  3.11.22 – My wife and I are really looking to get away to Japan for something like a two-week cruise. We've sailed Celebrity and Oceania, preferred Oceania for its food and fewer guests but then discovered Regent Seven Seas two years ago and really love the brand – not to mention the included Business Class Airfare. I calculate that Business Class Air, on its own, is worth about $10,000 for the two of us.  So we looked, and sure enough Regent has three sailings to Japan in 2023. We got really excited, the itineraries are great, and then we found out they are already sold out. I have read your comments elsewhere that anything with the words "Iceland, Japan, or 120 Days Plus World Cruise" can sell out in a matter of days or even hours. 
Is there any, good option available to us that you would recommend? This is a long-delayed trip[ for us, my wife is a cancer survivor, and I would do anything to surprise her with a cruise of the quality of Regent. Any hope you could provide would be appreciated. 
A –  We've done some searching for you and there is one strong option – Silversea will have two ships, the Silver Muse and the Silver Whisper doing 14 and 10-Day Japan sailings in March of 2023. It looks like you can climb aboard at this time although some of the upper categories are sold out. Silversea is an excellent, inclusive five-star line and it rivals Regent when it comes to onboard services and cuisine. The Silversea ships carry fewer guests. We suggest you reach our full review of Silversea on this site.
The air issue is interesting. Yes, Regent automatically includes Business Class Air along with most shore excursions in its pricing. It makes for good value, is attractive to travel sellers, and it is a tad misleading because if you don't use their "included" air they will reimburse you from $2200-$2700 per guest depending on the sailing. That means that their air is really "subsidized", another form of incentivizing the price.  Japan, specifically Tokyo, is a competitive air gateway and there are some excellent fares that pop up from time to time. Silversea has a more limited air program but they do often offer an air option worth exploring. Your travel advisor will help you navigate the differences.  We really hope you will look at Silversea – we hope this happens for you and your wife.