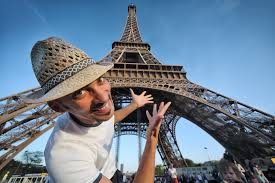 Q – We have just returned from a cruise on Oceania, a line we really love. It is our third cruise with them and we can't imagine any other line having better food, as CruiseTruth points out. On our first cruise to New England/Canada we just walked around the towns on our own. On our second cruise sailing out of Miami, who hired three guides we found searching online and that did not work out all that well. On this last cruise, we signed up for the shore excursions offered by Oceania.
We had a mixed bag although our guide in Tallin, Estonia had to be the worst ever. She would not answer any questions about the government or lifestyle in her country and refused to discussed the immigration issues they have been experiencing. She never mentioned food and she brought us into a shop that was clearly a place where she was friends with the owners. Other people on our ship did a different version of our tour and had a totally different kind of experience. So what is the trick to getting one of the better guides when you book an excursion offered by the ship?
A – Booking shore excursions aboard ship is a form of travel roulette. Cruise passengers aboard the top-lines imagine that the cruise line carefully selects the best guides for each excursion.  This is not true. Guides are assigned to the ships by the shore excursion company used by your cruise line. Oceania may, for instance, be using the same tour operator in Tallin that is used by Carnival, Royal Caribbean, or Silversea, Generally speaking, the most expensive ships  get access to the best guides because the experienced guides with seniority want to work with the most affluent clients. The worst guides are those advertising their services on the internet. They are usually not affiliated with a leading company for a reason. And the very fact that they are "available" should raise suspicions, The best guides book up months in advance and the best of the best refuse to work with groups at all. They are only available through travel planners who are in contact with them through membership in one of the better consortium groups where privately-guided in port excursions are the rule rather than the exception.
If you are seeking a truly memorable cruise experience we would suggest two strategies, although this will increase your overall cost: First, choose pre/post hotels carefully – cruise lines book large numbers of guests and many of the best hotels will not work with cruise lines. Secondly, have a top cruise consultant choose a private guide in the ports that are most important to you. You will never regret this additional cost and the bus passengers aboard your ship will be envious when you come back tot he ship and tell them what you did. Ask yourself this question: "If I am not going on a mass market ship – why would I want to go on a mass market bus tour"?