November 25, 2020 –
Q – Richard, as you know, we will be approaching ten months since Crystal announced they were not operating our cruise. You and your staff have been incredibly helpful but ten months is an outrageous time to have to wait for the more than $20,000 owed us. We love that yours is the most honest travel firm, but, in fairness, there has been nothing on this web site or even your private club member site that explains what is going on at Genting Hong Kong and Crystal. We've gone on other web sites and absolutely nothing of substance. We know that many cruisers look to cruisetruth for what the name implies and I would appreciate any updated information beyond what you have communicated to us privately. The world needs to know – what the hell is going on at Crystal and will we ever get our money? Your Q&A is extremely helpful as is your strong statement about Crystal and future bookings. But I think it is time for an update. I wanted to celebrate Thanksgiving with the $20,000 back on my Visa Card.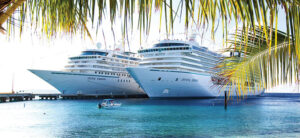 A – There has been absolutely no specific information forthcoming from Crystal to either top-tier agents or the corps of journalists who follow the cruise industry. Layoffs continue. 
This appears to us to be a news blackout that is highly insulting to the line's many supporters, both past guests and travel partners.
There is precious little news coming out of Hong Kong regarding the financial failings of Crystal's owner. Many of us have been trying to find substantive financial information regarding Crystal's debt issues and re-financing to no avail. Here is where we come down on Crystal's status at the moment:
We think the odds are about 60-40 that Crystal will, in some form, survive.

We are assured that our guests will eventually receive their money. But it is now approaching six months for some guests, a serious red flag. Out of a feeling of frustration, the number of guests seeking remedy through their credit card bank is increasing.

Crystal has added to the number of layoffs. They are operating with minimum staff and most staff is working out of their homes. As we have explained, this is a major, perhaps the major, reason that refunds are taking so long. Crystal's US Headquarters is in Los Angeles and they are quarantine limitations that is far less of an issue for the majority of cruise lines that are headquartered in Florida. 

Aside from the issues above, we are deeply concerned about two additional recent developments: Several of the nation's most respected travel insurance companies, including Berkshire Hathaway's Travelex, now decline "Supplier Default" coverage for Crystal. In addition, the largest group of luxury travel advisors has refused to participate in shared marketing programs with Crystal. We cannot overemphasize the importance of these two decisions.
For the reasons above, we are now urging potential Crystal guests to carefully consider other cruise alternatives until this situation is truly clarified.