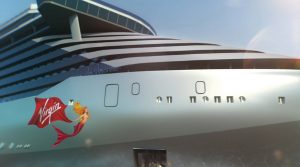 Q – We were having dinner with friends when someone asked about the Virgin Cruise Project. Haven't heard much about it but we would be very interested. We are in our early forties and some of our friends have younger children. Will this ship ever sail and will they have family cabins?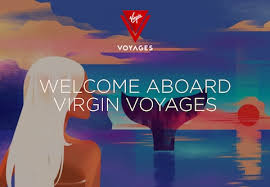 A – This is not so much a "project" as it is an exciting new cruise line, extremely well-funded, that is launching three new "Lady Ship" class 2,860 passenger vessels. This is a "definite" with delivery from the Italian Fincantieri yard scheduled for February 2020. This will be followed by two additional launches. The first ship will sail from Miami to the Caribbean but there are plans to base at least one Virgin Voyages ship in Europe.
Virgin Voyages is an adults-only environment. No one under the age of 18 may sail with the line. Look for entertainment and music options that appeal to a a younger than normal cruise vibe. Shore excursion options will be active and adventure-oriented although traditional sightseeing will still be available. As the photo of Chairman Sir Richard Branson taken at Virgin's recent press conference announcing the name change from "Cruises" to "Voyages" shows, doing things in moderation is not the philosophy behind this new line., Plan on booking at the end of this year – but tell your friends to leave the kids at home.