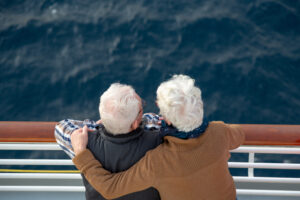 Q – Wow – this web site has awakened me to the possibility that my planned 2022 May cruise on the Crystal Serenity may never happen. I've read everything I can find about Crystal's finances – amazingly little news is available – and I must tell you, as non-client, many of us are grateful for the honest approach, free of advertising on this site. Someday we hope to work with you on a trip to Tahiti and the South Pacific. But it is now February 11, 2021 and I want to pose a simple question. Beyond all the hype and the promises and the ads and the cringe-worthy cruise line site that pretends that nothing at all is wrong, will Crystal be going out of business? If I came to you today to book my cruise next May would you be taking the booking?
A – We would not recommend that you book Crystal in 2022 given their current financial uncertainty and their inability to offer anything like reassuring responses to the travel media. Our clients booked on Crystal are primarily using Future Credits. This situation exists because Crystal has not paid refunds to a majority of their guests. Some are waiting more than ten months for refunds. So no, we would not be taking your booking unless it was preceded by a frank discussion of your risks and options. 
Do we think that Crystal will be going out of business? The facts, as we have tried to lay them out, would indicate that it will be difficult for Crystal to survive in its present form. Here is what we know:
The Hong-Kong based owner, Genting HK, reneged on its interest payments to creditors last year raising numerous red flags. Since that time, the CEO of Genting, a firm that is heavily invested in Asian casinos and shipping, has said he would pledge $1 Billion of his personal funds to keep the Genting empire afloat. But that is less than 25% of Genting's current debt according to some analysts. 

There have been no major announcements to indicate that Genting has found investors who will fund their current debt load

. 

Major travel insurers will no longer offer "supplier default" coverage for Crystal products. 

More than 50% of Crystal's US-based workforce has been furloughed.

Crystal has been unwilling to take upfront deposits on a variety of upcoming sailings. 

The largest luxury travel consortium has advised its members that it will cease marketing Crystal cruise and riverboat products. 

Travel advisers who have been loyal to the brand are now turning away in the face of large numbers of clients who have not received long-overdue refunds. Agencies have also turned away from Crystal in light of a "freeze" on the payment of agency commissions. Crystal may have a hard time renewing the close-held relationships it has enjoyed with many top-ranked travel sellers.
If this were an impeachment trial, the facts above would call for a guilty verdict. There are, however, a few extenuating circumstances worth considering:
Crystal has won more "World's Best" awards than any other cruise line. Despite its issues, advance 2022 and 2023 bookings are surprisingly strong.
Should the worst happen – it would be highly probable that the Crystal brand would be preserved and its ships would continue sailing with crew intact. There are several potential buyers including some major investment houses that would be impressed by the line's assets, people, and onward bookings. It is our strong opinion that, while the worst may not be over, Crystal as a brand will survive.